You may have asked yourself questions like: How does e-commerce benefit my small business? Isn't setting up an online store too complicated? How can I choose the best e-commerce CMS? So in this article, we'll explain why it can be a no-brainer, how it benefits your small business, and how to choose the right tools.
Importance of e-commerce in the midst of a crisis
There is a big difference between ecommerce and the local market. While when you trade locally you can only sell to the people closest to you, with e-commerce you can reach the whole world.

So, if you apply this in times of crisis, you will realise several aspects, such as:
The people closest to you are not always going to be interested in your products. Whereas, when you use e-commerce, you will be able to reach a more targeted and wider audience.

The day your localised store doesn't generate good profits, your website will be able to make up for it.

Your country may be going through a very difficult crisis but, at that very moment, another country may be in perfect conditions. Trading with people from that place can get you out of that problem.

The best thing about e-commerce

is that

you don't necessarily have to sell physical products

.

Depending on the focus of your business, you may choose to sell subscriptions and so on in order to increase your profits. And also, you may need

top cashless payment companies

that will make your shopping secure.
Do I need a CMS if I have a small business?
The answer to this question is yes, of course. In reality, CMS and online store platforms go hand in hand. Don't be fooled when people tell you that ecommerce is only for big companies or IT professionals. In fact, a small business is much more likely to grow when it has a CMS website.
The importance of CMS for small businesses
The following points will tell you why it is important to use CMS for small businesses.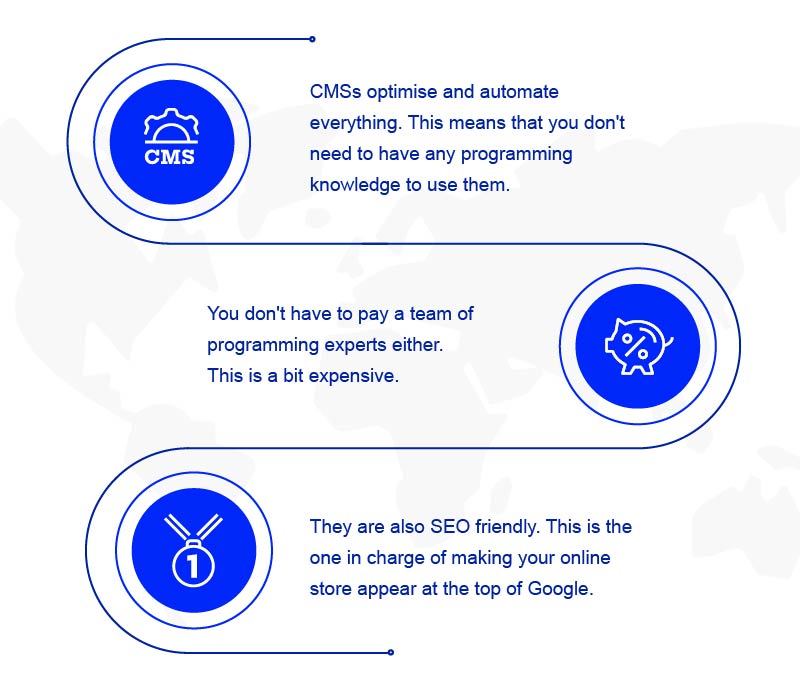 How do e-commerce CMS platforms work?
CMS is the simplest and easiest way to set up an e-commerce business. These are based on:
Programming.

You won't have to use this point at all, but we mention it because these tools are programmed in such a way that you don't have to touch or use codes of any kind.
Customisation with simple desktops.

In order to customise your store and add your products, they will provide you with a very intuitive panel. There you only have to choose designs, upload your content and that's it.
Payment gateways.

You can set up

the best payment gateways

, which will provide a better customer experience. These are very easy to install. You also have PayRetailers for this job.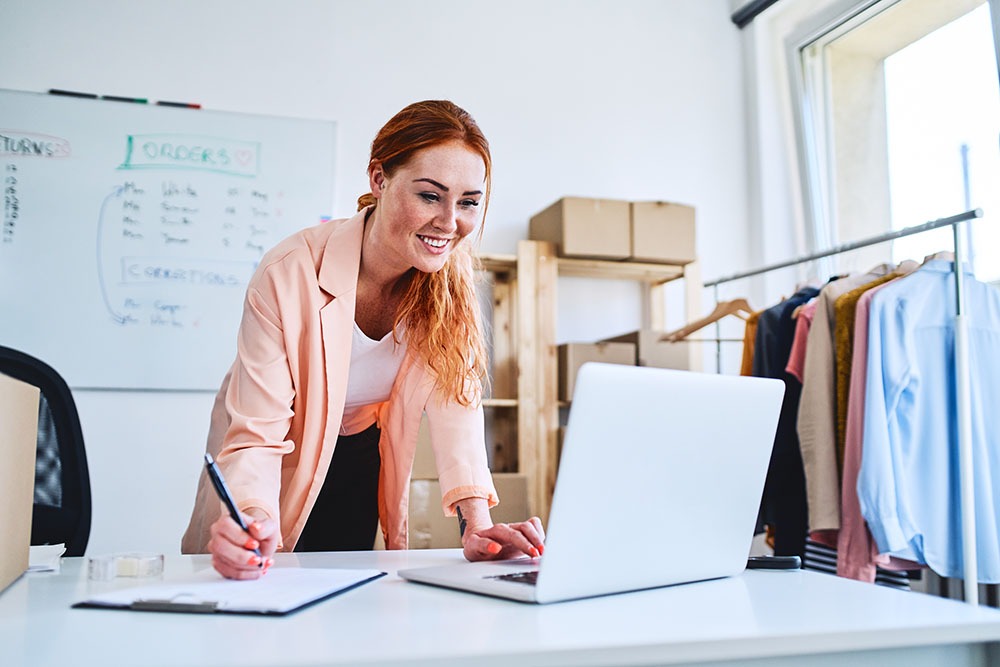 Is e-commerce good for small businesses?

As we mentioned earlier, yes, online commerce is beneficial for large, medium and small businesses. Maintaining an online store is not expensive at all and you need to look for an online payment provider first thing. In addition, there are hosting plans that adapt to the number of people who buy in your store.
Top 5 best e-commerce CMS for small business
These are the 5 best e-commerce CMS that you can find in this varied and large market.
Of these, WordPress and Wix are the most flexible and will provide you with the most customizable designs. Shopify is the most specialised in e-commerce.
Online payment gateway for website compatible with WordPress
Do I need a website or e-commerce?
In reality, to sell online you don't strictly need a website. Many small businesses set up a blog or group within a social network.

The most common example of this may be Facebook. There, you can create an account, then they will give you the option to create a section where you will add your products and promote them. However, this only applies to local stores, as social networks do not use payment gateways.

For cash on delivery orders, it doesn't matter if you don't have a website. But if you want to be more professional and provide secure payment methods, then a site is a must.
Why do I need a CMS for e-commerce?

CMS should be used when:

You are not computer literate enough. These tools will do all the programming for you.

You want to improve the user experience. CMSs allow the use of payment gateways, which are really important.
Conversion optimization strategies for your e-commerce
Ways to digitise a company
Business digitalisation can be understood in several ways. Here, we will explain what options you have to digitise your business, but focusing on customers and sales.
Make your local business become a web-mediated platform.

This means that you will make a website that contains all your company's services and, in addition, many internal processes can be carried out from there.

Create a new business model.

This is where you can start your digital marketing.

Provide exclusively virtual services with digital payments in mind.

You can provide: customer or technical support, online courses, subscription services and much more…
Digitisation strategies in 2021

Some of the best strategies are:

Adapting the entire business infrastructure to integrate digital elements.

Providing a good shopping experience on your website.

Optimising some processes (with CMS).

Providing fresh content.

Training all your staff.

When you want to go international and make your business much bigger and more successful, PayRetailers will be there to help you. Not only will you have professional help, but you will also be able to choose one of the best e-commerce CMSs and simplify your work a lot.