New online payments providers appear every day, but… are they all recommendable? What should we know? Find out which ones are the best!
How do online payment providers work?

E-commerce will represent more than 17% of global retail sales in 2021 and it will continue to grow!  Large, medium, and small companies have understood that's where business opportunities lie, and that's where we need to look.

Behind this boom, there are the companies that provide the platforms that offer payment gateways. These serve as intermediaries between the customer and the seller. They are known as online payments providers.

Electronic payments providers are companies that offer sellers the technological support they require to access electronic payments with credit or debit cards, digital wallets, or cryptocurrencies.

These electronic payment companies take the buyer's financial information, debit the purchase, and connect with the seller's bank to make the transfer in real time.

Then, they notify each of the parties of the result of the transaction.

This entire process takes no more than a few seconds, which reduces transaction times, provides convenience to the buyer, and reduces stress for the seller.

What is an example of an online payment service? The offer of electronic payment companies continues to grow. One of the best known examples is PayPal, which not only offers online payment processes for companies, but also for individuals.
How to pay online safely?
All of this boils down to two very delicate elements: data management and money management. For the success of both things, a common denominator is required, which is security.

Although security is crucial for the buyer, considering their personal information and their money may be at risk, it's also crucial for the seller, since every problem that arises with a customer may pose an operational or even legal problem.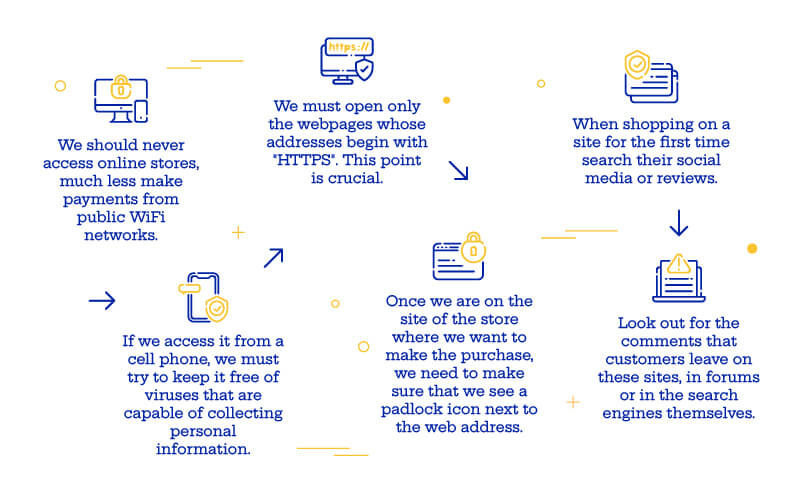 Although current technology makes shopping online relatively safe, it never hurts to take certain precautions:
We should never access online stores, much less make payments from public WiFi networks, since they do not offer any security guarantee for the protection of personal data.

If we access it from a cell phone, we must try to keep it free of viruses that are capable of collecting personal information.

When we enter the search engine, we must open only the webpages whose addresses begin with "HTTPS". This point is crucial, especially if we enter a webpage that requests some type of registration and personal data, in addition to financial information, when paying. It is also a good idea to consider what kind of personal information we are willing to share.

Once we are on the site of the store where we want to make the purchase, we need to make sure that we see a padlock icon next to the web address. This guarantees that the site is secure and that the exchange of information will be encrypted.

When shopping on a site for the first time, it's a good idea to search their social media or reviews, to confirm the reliability of the business or service provider.

We should also be attentive to the comments that customers leave on these sites, in forums or in the search engines themselves.

When security breaches occur, it is the company's responsibility to provide answers to the customer.

However, most of the time, problems arise from the platforms, which are not a direct part of the seller.

For this reason, it is essential, when looking for a platform to conduct electronic commerce, for the seller to choose a provider that offers robust security for their transactions.

Security is precisely the most appreciated added value in this type of structure, and it is the first thing that providers of this type of services must offer. If they don't, the seller should look for other options.
Find out which payment gateway is best for your e-commerce in 2021
What should you look for in secure online payment companies?
If you are a seller, you probably think that changes always bring complications, because they involve changing your business model, hiring staff, or acquiring new equipment.
You can save yourself many of these problems if you act with caution and calm when deciding which online payment company to use in your store. Try to keep these few principles in mind:
Look for a robust platform that has solid technology and has prestige in the market. Do some online research to find out the rating that the company has received from other users, large or small.

Verify the security elements on which the platform is supported. For example, in the case of credit card payments, find out whether their system requires the user to provide the CVV (Card Verification Value) code, so that no one inside or outside the platform can use your customers' card numbers fraudulently.

Find out how often they make backup copies of all transactions, either through the use of well-known plug-ins or specific backup programs. This is crucial when trying to prevent any problems.

Find out whether the platform they offer you for the online payment service stores your customers' sensitive information during transactions. The more information there is on the network, the higher the risk for users that this information will be used for dishonest purposes.

Regarding the latter, you should inquire about the privacy policies that are managed on the platform. Remember that the customer will always believe that their data will be stored in your store, and not on the servers of the

online payment gateway service providers.

Another important thing to consider is that good

online payment gateway service providers

should have a strong password policy for customers. This will give you, as a seller, the peace of mind that your users' data will be handled only by them.

Finally, you'll want to find a customer-friendly platform that offers immediate results and provides a sense of transparency.
Credit and debit card API payments: what is the best for you?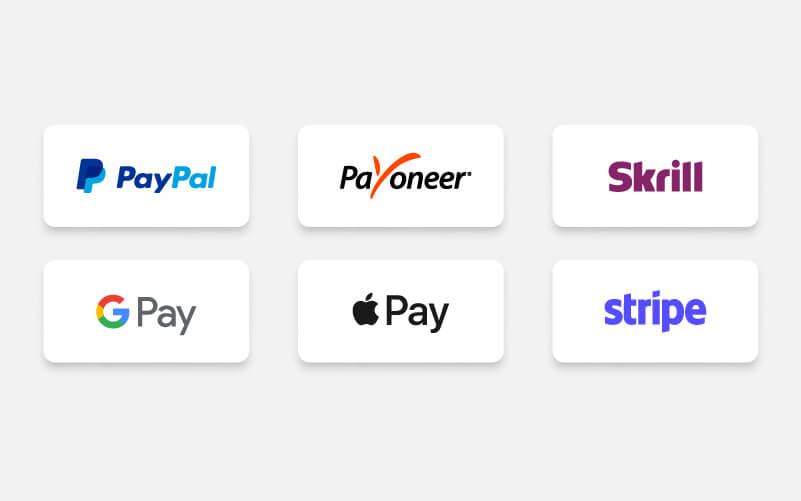 The best online payment providers for 2021
The time has come! We will tell you which are the best online payment providers for this year.
PayPal:

It continues to be one of the most popular in the global market and users have a positive image of this brand. Its robust platform has kept it as one of the world's leaders.

FastSpring:

Its reputation is based on the security it offers for transactions, and it is at the same time a PCI level service provider, which is the highest classification of security available in the global market.

Stripe:

 It has a technological structure that adapts with great flexibility to the characteristics of each company, regardless of its size.

Google Pay:

Its fame is not only due to the fact that it is a subsidiary of the most powerful search engine in the world. Millions of stores use it because, instead of a card, the user uses an encrypted number that offers greater security in the transaction.

Shopify Payments:

Its greatest strength lies in the simplicity of its interface. Its technology ensures that transactions are made with the fewest possible clicks.

PaySimple: 

One of the biggest draws is the low intermediation fees that it applies to users.

Bold:

Its biggest benefit is that it applies micro-authorization to its transactions, combined with 100% coverage of fraud charges; This represents a great advantage for companies that use this platform.
In addition to the above mentioned, several of the characteristics of these and other platforms that are not on this list are:
They offer currency conversion, so your sales can be global.

They facilitate bank transfers with direct deposit, so you may have your money more quickly.

They are compatible with mobile payment so that people can buy your products from their phone with simple steps.

They have portals or links for online payments; they allow the adoption of different options for you and your clients.

The most important thing? Knowing which online payment company best suits your business.

Tips to secure your money
Online transactions offer comfort and convenience. However, when it comes to our money, we must always be vigilant.
Visit sites by typing their URLs only. Don't do it through links or advertising banners that look suspicious.
Always use your own computer or cell phone, making sure they don't have any viruses.
Try to have a specific credit or debit card for those transactions. Never use your main cards.
Click on the lock next to the URL to verify the site's certification.
With this information, you can confidently join e-commerce and not run the risk of your business disappearing along with your customers. Choose the online payment providers that best suit your business needs and… multiply your sales!