Setting up an e-commerce business has never been easier than with our step by step guide that will help you have the best online store.
here is no doubt about the strong and successful business opportunity that lies in setting up an e-commerce business. 
It generates profits and is a strong, sustainable business endeavor that is in constant change, because thanks to the Internet, you have access to a wide range of potential customers and sales opportunities.
We will show you how to set up a proprietary e-commerce site in order to take advantage of this new type of selling.
What is e-commerce?
E-commerce or virtual commerce is a way or method of buying and selling goods or services that uses the Internet as a market point. 
This method takes the advantages that the virtual environment offers, so that both sellers and buyers see their needs and objectives met.
Today, there are many ways to set up an online store and multiple platforms that offer services to create and set up a site, depending on the needs of the seller and the objectives they seek with their goods and services.
As for buyers, the Internet has become one big shopping center where finding the product you want is easy, effective, and simple; it is within reach with just a few clicks and may be purchased from anywhere in the world.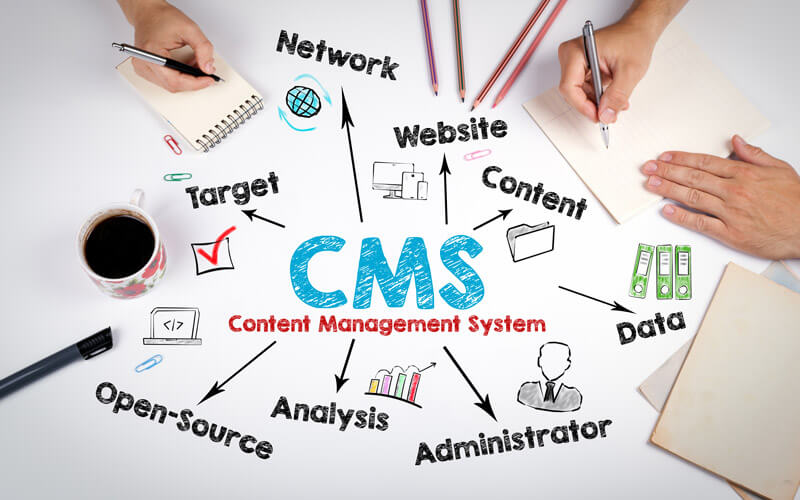 How to choose a CMS
The CMS or content management system is basically a software that is responsible for setting up, creating, and subsequently managing the information on a web page and, best of all, without prior programming knowledge. 
Even if you have the knowledge, it is absolutely essential to have the support of a CMS, since it sets up your online store immediately and systematically.
As with all decisions made regarding an e-commerce site, the choice of a CMS will depend entirely on the products sold and the objective to be achieved with the virtual store. 
Once these points are clear, the following should be considered regarding the management of the website:
The type of CMS you can use
To set up an online store, you need a control panel and maintenance software that takes care of SEO positioning and is responsible for managing views and potential customers based on searches. Currently, CMS are divided into 3 large groups: Posting to social media, posting news or blogs, and Web Content Management.
Of the 3 groups, Web Content Management is the most suitable for a e-commerce business model, since online stores are almost entirely based on multimedia content used to offer goods and services.
 The management systems available
There are many management systems, with different depths, different prices (some of these, free), and various types of setups that may suit what you are looking for and need.
Among those available, there are 3 that stand out for their audience and because they are the best way to set up an online store:
WordPress

: This content management has evolved over time and allows you to add lots of plug-ins to customize your content.

Joomla!

: It's more complicated to use than WordPress, but just as powerful and more flexible. It's perfect for platforms that don't require a lot of text, and that rely more on multimedia elements. One drawback is that it requires a little more programming experience.

Drupal:

It's a flexible system that allows a store to be highly customized. Additionally, it's more powerful than the previous two and has a greater degree of stability and security, which makes it an excellent candidate for companies and businesses.
Tips before setting up an e-commerce business
Once you understand what an e-commerce business is, the two main things to consider before setting up an online business are: knowing what goods or services are going to be offered and what objectives you'll have for the store.
It's also a good idea to know which platform covers your needs when it comes to meeting these objectives, so that you have everything you need to set up the store. You also need to know some SEO positioning basics, to help your content reach the largest possible audience.
Something that is very important for an e-commerce site to prosper is to choose a payment platform that is easy, secure, and accessible for the biggest audience and that you, as a seller, can use without any problems.
Once you've chosen the platform, objectives, and goods to offer, as well as the payment platform that best suits your needs, all that's left is to come up with marketing strategies and, effectively, move on to the physical part of the store, which is to get the products and shipping that best suit your offer and your needs.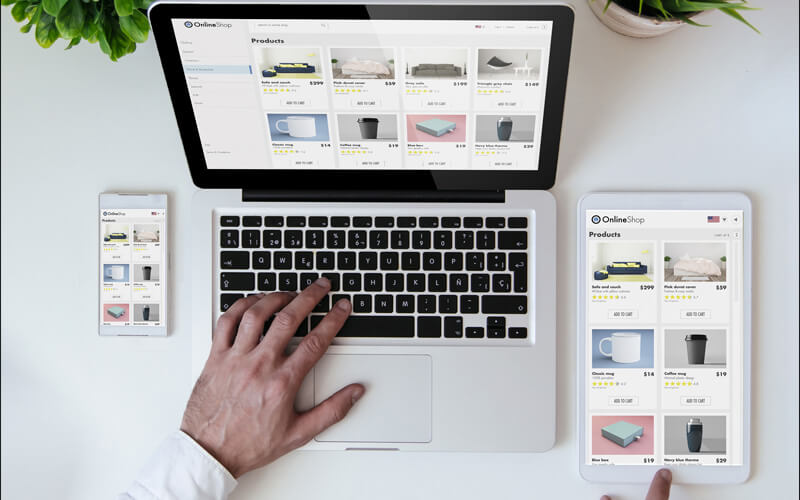 How to create an online store
When it comes to creating your own e-commerce business in 2021, things are much simpler than a few years ago, and you have a wide range of tools that allow you to set up an online store efficiently. We will take you through the step-by-step process necessary to set up your own virtual store.
Get to know e-commerce and see how your business fits into it
Just like when you're looking for a CMS, this involves doing research on what the virtual market is like, how to fit what you will offer, and how you must offer it to reach potential buyers.
How buyers will be able to pay, with what platforms, and how you will get the products or services offered to the customer are all basic things to consider when setting up a virtual business.
 Choose the name, logo, and trademark for the store
Next, the idea behind the business must be shaped. Just like any type of company or undertaking that is carried out, you must choose a name, create a logo, and register a trademark, in other words, give the business an identity that may have an impact. It will have to be registered in the corresponding government entity for businesses and companies, as well as obtain the respective licenses.
Online payment integrations: how much does it cost and documentation
Choose the e-commerce platform and create the website
This is when you look for a storefront to rent and start the business, but it will be on the Internet, and you will have to choose from among the different platforms available the one that fits perfectly with your project; this may be a direct platform that helps you create the site in a matter of clicks or one of the open source sites that needs a more experienced hand to customize the platform to your needs.
A good tip is to look for an eye-catching domain name that perfectly represents your business. This will create a virtual identity that can better position the store.
Among the most used platforms we find:
Shopify

: All in one platform that greatly facilitates the work of setting up the virtual store with an easy and intuitive interface, allowing you to start your business quickly.

Magento

: An open source platform that allows customization down to the smallest detail, thanks to its programming power, but which requires previous experience.

Woocommerce

: The platform relies on WordPress to create virtual stores, with the help of many plug-ins. Every aspect of the store can be customized to your preferences, although it requires professional experience to set up

Prestashop

: For small and medium-sized stores, this is the perfect option after Shopify: it's free and open source

,

but it can be used by inexperienced people. It helps with SEO positioning and allows you to install certain improvements that help the setup of your online store.
Once you have chosen one of the platforms, it is time to get started and set up the store, place the products, and fill your store with everything there is to offer.
Move on to the physical part
Once your store is available on the Internet, the next thing will be to move on to the physical part of the business, that is, to obtain, stock, inventory, and set up the logistics chains for the products or goods that are offered. You must start to inventory the goods or services available on the online platform again, so that they can be updated on the platform as they are sold.
All available options for you to recieve online payments in 2021
Set up your shipping system
With the buying and selling system set up, you will have to see which is the shipping system that best suits you. To choose it, take into account certain aspects: the scope (local, regional, national, or international) and, depending on the type of product or service offered, if the transport service can carry fragile objects and how secure your system is in general.
Promote your business
Once the store has been set up, all that's left to do is to market your products or services and get customers. There are many ways to promote Internet businesses: Google ads, social media, SEO positioning, or using the tools that the platform offers to position the store better. Once the platform starts having visibility, customers will begin to arrive.
How much does it cost to start an e-commerce business?
Depending on which path you take, it may be a minimum or medium expense, based on some factors: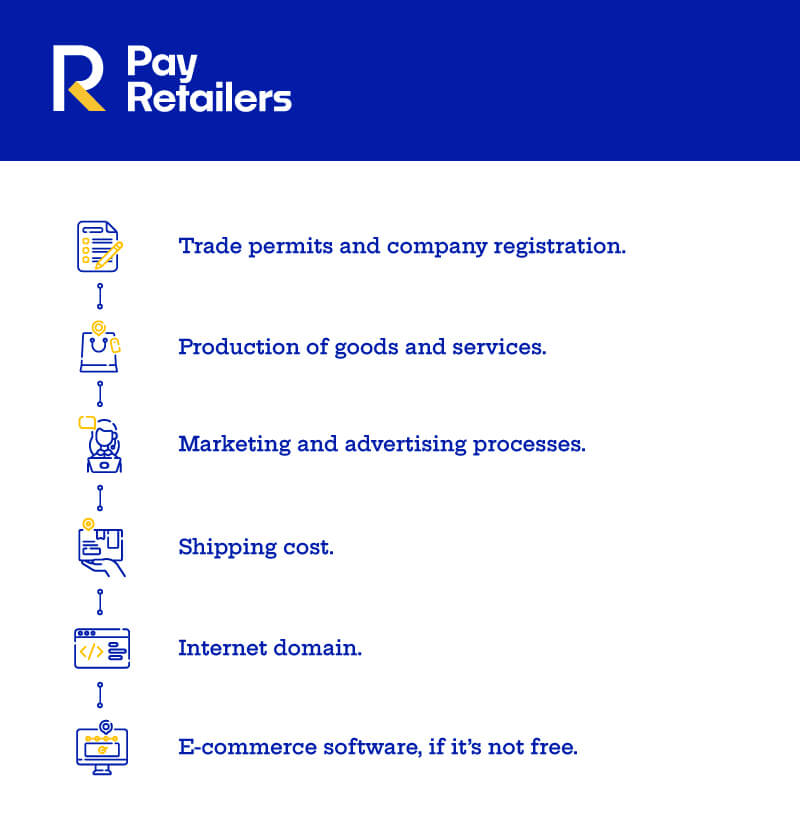 Setting up an e-commerce business has never been easier than it is today, and it is highly profitable. Start your venture by following our guide and ask us any questions you may have.