How does an e-commerce site works?: a complete guide that you need to know and the most important types of e-commerce process. 
The internet is a space that allows us to attract more customers to our business. According to a report published by Forbes, the number of users on the internet has increased by 7.3% in recent years. 
Therefore, it is necessary to know how an e-commerce works in order to reach more customers and interested players. In fact, any business can secure a favorable place on the market as long as a few recommendations are taken into account.

Here is a complete guide where you will find everything related to e-commerce explained step by step. This is something that will help you meet your business objectives.

What is e-commerce?
To answer the question about what does e-commerce means, it is necessary to remember those big brands that have positioned themselves thanks to this system of commerce; that is to say, the online e-commerce marketplaces. 
Conceptually, it is the application of digital marketing in order to get more customers through a website. Therefore, we can define it as the activity of buying and selling goods and services over the internet.

Generally, e-commerce uses platforms, either on the World Wide Web (with a specific domain) or through other technologies. These platforms can be email, social networking, and/or instant messaging applications. The thing is that, in all cases, e-commerce works through electronic means.

You should know that the number of platforms and technologies has increased as e-commerce has become more common. 
E-commerce platforms can perfectly adapt to market trends and business objectives. Thus, the concepts of traffic, loyalty, and expansion of e-commerce can be favored and promoted.
Online payment integrations: how much does it cost and documentation 

The e-commerce process
Although commerce habits have changed a lot, the essence of this millenary activity remains the same. Thanks to technology, commerce has evolved, and we would like to tell you about the e-commerce process in this section.
First of all, you will have to carry out a

market study

, mainly to discover the viability of your business idea on the web. 

Once you have evaluated the risks and possible scope of the idea, you will need to structure a

business plan

. This should be adapted to the results of the previous study.

Subsequently, it will be an indispensable requirement to design a

digital marketing strategy

that aligns with the structured business plan. This strategy must meet market needs. 

At this stage, it is important that you choose the platforms and new technologies that will favor your strategy; that is to say, those that will allow you to generate greater recognition and market traffic for your

brand or business

.

Then, the next step will be to look for an appropriate choice of platforms that make it possible to

create your online store

and monitor the revenue from sales or financial transactions. This will ensure customer loyalty and interest in your products and services.

After building the online store, you can

set up the logistics and payment methods

that you will use to close the sale. Control and monitoring can be the direct responsibility of the business itself. However, you can also choose to hire a company to take care of all the details related to payments.
It should be noted that, in either option, your business will retain the full power of e-commerce. However, if you do things on your own, you might slow down the process's fluidity. 
That's why it is sometimes a good idea to rely on other companies that specialize in offering logistics services and alternative means of payment. This way you can focus your attention on matters related to the quality of the product or service.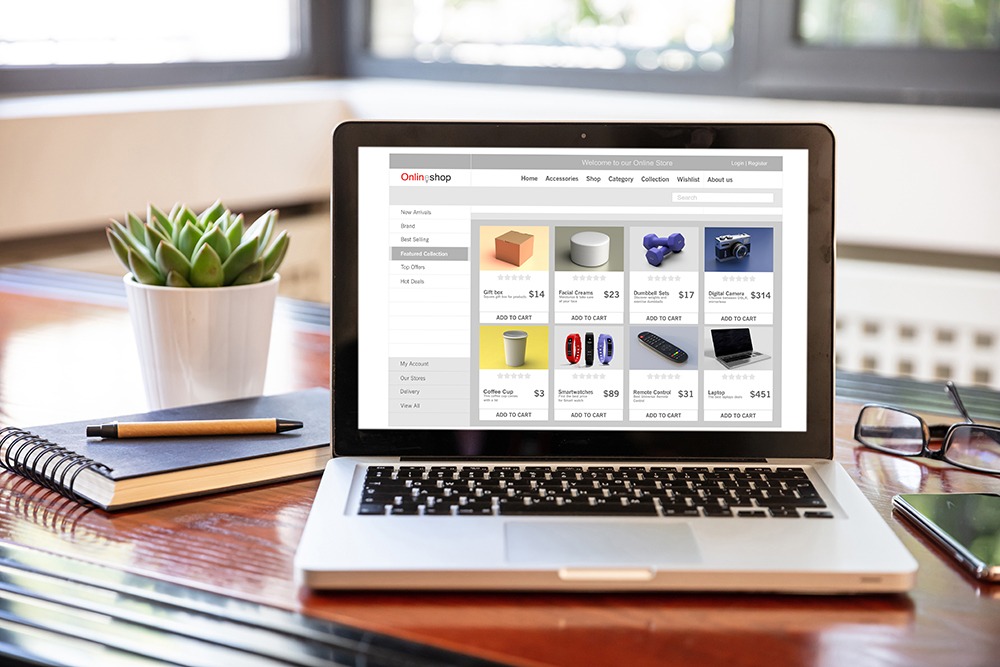 How does e-commerce make money?
According to the figures, the web presents quite a significant opportunity to optimize your business. In this sense, you have to take into account that 60% of the world's population is connected to the internet. 
With this piece of information, we could say that commerce has moved to online sales and, therefore, your chances of generating income online will increase considerably. However, as we mentioned before, it is essential to structure a clear business plan to achieve success.
On the one hand, you will be able to monetize all your earnings on your website with your products and services. On the other hand, through advertising you will have the possibility to collaborate with other companies so that they also get more visibility and you get more income. 
For this second item, you have the possibility of doing things on your own with the help of tools like Google Adsense, but you can also opt to hire the services of an advertising agency.

Another way to increase revenue is through call-to-action buttons; for example, to drive some kind of subscription to your business. This will be used for promotions, coupons, and special offers. You should keep in mind that most customers value this option.

Crowdfunding is another way through which, together with other people, you can create community projects and projects with a social impact. In addition, it will generate added value to your brand, especially in aspects such as social responsibility. 
The earnings will be reflected in the percentage you receive for managing this activity.
Types of e-commerce businesses
Maybe you have asked yourself: What are the types of e-commerce? Here are the most important types of e-commerce models.

B2B (business to business)
Business to business. This is a form of e-commerce that happens between companies and not directly with the end user. In this type of business, you will be able to sell or buy anything that will help you to provide value to your final product.

Here we are talking about large products and services that require robust and complex systems. Some global companies make use of digital tools like artificial intelligence, big data, and cloud services. Thus, products can be created or designed that increase the productivity of other companies.
B2C (business to consumer)
Business to consumer. This type of e-commerce is common when commercial transactions happen between a business and an end user. We see it every day on e-commerce sites that make retail sales and, in fact, many big brands have grown thanks to an increase of sales through digital platforms and/or their own websites.

You will better understand how this type of e-commerce works with examples. The most common are Adidas, Nike, and Zara. These businesses not only offer their products in physical stores, but also through the internet.

C2C (consumer to consumer)
Consumer to consumer. Generally, forums, discussion groups, and digital marketplaces are used to carry out the transaction.

Although these are the most common, don't forget that new ways of trading on the internet are appearing every day and you will have to pay attention.
How does an e-commerce business work?
As you have seen in this e-commerce 101 guide, this type of business works like a traditional shop with all the essential processes: distribution, sales, and payment. However, the space where these transactions are carried out has been renovated. 

This is thanks to platforms that are updated quickly as new technologies become available. The new trends are blockchain, big data, machine learning, and cloud services. In other words, quite robust technological tools that facilitate the execution of our project online.
Basically, an e-commerce business works over a network, with a system that is 100% computerized. The following list shows the process of how online commerce works and the elements necessary to use it. Nevertheless, the order may vary depending on each product or service:
Electronic device

. It is necessary to have a computer, smartphone, or tablet with internet access to access online commerce.
Web server

. This is a central computer where the order is received to display your website so that internet users can see it online. 
Order processing

. At this stage, the system queries a database to see if what the customer needs is in

stock

.
Stock database system

. If the product is not available, you can ask manufacturers or wholesalers for a new supply of inventory.
Payment system

. In order to process the payment, it is necessary for the payment methods that are available on the website to be many and alternative. Once the bank confirms the transactions, the receipt will be sent to both the customer and you.
The

merchant system will authorize the transaction

, although the funds will not be transferred immediately — instead, this will happen a couple of days later. The order manager will confirm that the payment has been processed and notify the web server.
Shipping logistics

. Lastly, the product or service will be shipped to the customer.
What is the objective of an ecommerce?
The goal of an ecommerce or online store is usually to have as many sales as possible, but the way to approach it will change according to many factors: what the company wants to achieve, the size, the popularity of the brand, etc. For this you need to make a SMART Goal.
But, apart from the obvious goal of selling more, an e-commerce has many goals, like:
1. Lead generation
Possibly the most important of the objectives in B2B Ecommerce and that is part of any strategy with 50% of the companies interested. We are talking about leads with the following characteristics.
Number of Leads captured
Quality of the Leads.
Final conversion rate.
2. Increase of average ticket
One of the main goals in e-commerce to improve our margins and additionally to be able to lower the percentage of transport costs in the orders. It is important to be able to direct the sale towards the products that can provide us with higher margins.
Tips to improve margins
Use of the minimum order to get free transport to raise the average order.
Customer service and push sales
Generation of product batches
Up selling
Cross selling
Promotions or discounts: discounts or special services (e.g. free shipping) for reaching a certain purchase amount.
Loyalty programs: the more consumers buy, the more discounts and rewards they get.
3. Increasing the VIP customer base
Realize the power of VIP customers. These customers have an order 30% higher than average. This should be one of our main objectives in e-commerce.
From this, establish actions to convert them into customers with higher purchase and at the same time with a higher loyalty or take care of them. There are millions of options but the ones that seem to work best are:
Determine the minimum annual spending level  to include them in the VIPS base.
Segment: divide them from the general database and establish a communication schedule.
Special purchase periods with % discount in off-peak periods. For example: if you bought on Black Friday we give you X% for purchases from December 1-10 (we are looking for a quick second purchase).
New products: Pre-sales, pre-presentation of collections …
On / Off: Strategies of devirtualization of VIP customers in our facilities / showroom or in our OFF stores (in case we have them).
Engagement (in case it is feasible): Fundamental the person(s) responsible for Ecommerce Customer Service.
Establish ecommerce objectives of annual growth of the base of these customers, of % of total sales and relentless pursuit of the increase of the average order.
What is a SMART Goal?
SMART goals, refer by its acronym to:
Specific (specific, something that is not too general).
Measurable (measurable, we have to be able to know if they are met or not)
Achievable (achievable, it must be realistic)
Relevant (relevant, it must be important for the business)
Timely (temporary, it must be framed in a certain time frame)
In short, e-commerce works. When taking into account the enormous possibilities offered by the internet, we can see that businesses have a large number of tools that help to build a strong brand at their disposal.
We are in a borderless market that gives us the possibility to connect simultaneously, not only between businesses, but also between companies and end consumers. 

Now that you know how e-commerce works, don't delay and start your online business today. The possibilities to increase your income are many thanks to the options offered by the internet. Learn more about e-commerce with Pay Retailers and build a strong brand on the web alongside the best. Get in touch!