Are you looking for the perfect online API payment for your e-commerce? ✅ Here's what you need to know to choose it correctly. ✅
The recent lockdown motivated by the global threat of a virus led millions of people to discover (or rediscover) online payments for products or services.
And not only as an alternative to buying entertainment products, electronic equipment, or luxury merchandise. But during the first days of the confinement, even the articles of the family basket were massively acquired on the web.
The world of digital single transactions and the need to process payments on the internet every two or three months, for a common consumer, were left behind. Now custom online payments and API payments are day-to-day matters.
This new reality led businesses to digitize a large part of their processes, while consumers seek safer and more intuitive virtual shopping experiences. Make money by adding a fee on payments processed.
What is an API payment gateway?
Questions like "which e-wallet is the best?" became common among shoppers, as companies tried to unravel technicalities like API global payments and blockchain API payments gateway.
It is certain that in a few months the number of companies that can understand the term API (Application Programming Interfaces) and implement solutions of this type focused on payments, has greatly increased.
The truth is that with payments API, businesses facilitate the integration between the payment processes in their e-commerce and the collection networks, without the buyers leaving the brand's websites.
How a payment API works?
Avoid the users an abrupt interface change, and go through an external payment gateway, ensures a more satisfactory and fluid shopping experience.
And that can make the difference between an effective purchase or dropout for the transaction.
For this, if you want to have a payment that helps increase conversion on your site, you must implement an API with pre-built auto hosting.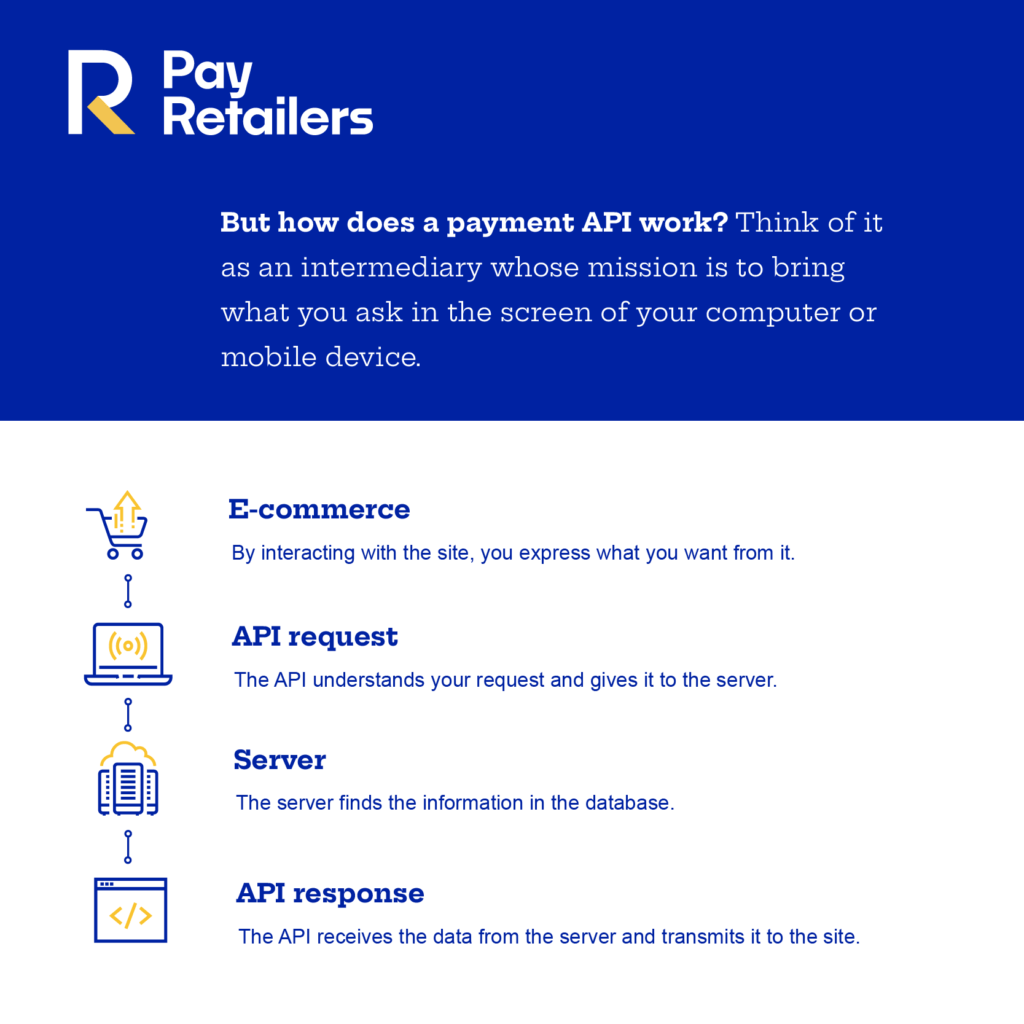 How to integrate payment API for eCommerce?
These seasons are not enough to frustrate our digital prospects. In your e-commerce, you must facilitate recurring transactions and actions such as:
Credit card payments 

Acquisitions with debit cards

Viewing order history

Access to shipment tracking links

Creation of user profiles

Management of payment methods

Management of shipping and billing addresses 

Custom online payment
But a robust online payment API must also have the possibility of store a card on file, to keep the buyer's information secure, and integrate digital wallet support and multiparty transactions.
Implementing APIs is an easy process, which is achieved through plug-ins, and allows integrations with gateways hosted in your e-commerce, but which take the user to an external page of a payment service provider (PSP).
However, they also make it easy for buyers to enter the data and make payments in the e-commerce itself, without redirecting them to sites hosted on external servers.
What to look for in a good API?
If your users were still wondering why to use an e-wallet or credit card on a website, with the experience you provide them through an API for payments you can push them out enough.
All because you can eliminate resistance that they still have regarding security and ease when carrying out the transaction. But how do you know which one is the best?
Fortunately, many developers have been working on how to create and test payment API for years. Some of these alternatives make money by adding a fee on payments processed, during custom transactions. 
Whatever the method to monetize and operationalize a solution have 5 characteristics that every robust API should have:
Support
Be sure you implement a solution with a company that has been in the industry for several years, and whose implementation is not 100% free. Free solutions are generally not supported over time.
Updates
It is important to lean towards an API that constantly evolves and releases versions in which errors are corrected or new integrations are facilitated.

Global payments API documentation and tutorials
The documentation on its implementation and operation must be clear and kept up to date after each update. Also, decide on alternatives that provide you with tutorials and demos, to see them in operation.
Testing
In addition to tutorials, success stories, and demos, a robust solution must always have a suitable space to simulate conditions, test possible scenarios, and obtain data without compromising the integrity of the site.
Security
To guarantee user security, you must implement a secure solution, with restricted access, data encryption, and continuous rotation of login credentials.
Now you know what it takes to choose the right payment API to guarantee the security and experience of your users while improving the sales and operation of your business.