There are several reasons why customers abandon their shopping carts on online stores, explains the Baymard Institute. Complicated checkout processes and distrust of the website when the time comes to add credit card details are directly related to payment methods. Also, the lack of a variety of payment methods. Follow these steps to add a payment gateway to your website.
How to add a payment method to a website
Before answering the questions, how can I add a payment method to my website, how do I add an API payment, we should take into account key elements such as the seller's and the buyers' geographical location. Customs and preferences should also be assessed to determine the most appropriate methods.


Payment gateway integration: how does it work?
If you are wondering how to add a payment method, this is an important point. Payment gateways are cloud platforms.
Their main function is to act as an intermediary between the seller's and the buyers' banking institutions, guaranteeing the secure and fast transmission of information between those involved in an online purchase.
And they are the safest way to shop online in 2021 without cards. Broadly speaking, they work as follows:
after the customer has added their payment information in the form, the data is sent encrypted to the payment gateway via SSL (Secure Socket Layer) protocol to be transferred to the payment processor; then to the customer's card system where the checks are carried out.

After this process, the transaction result is returned to the gateway and communicated to the interested parties. Although these steps involve different actors, they only take about 3 seconds.
1. Add online payment method by QR Code
Adding a Quick Response Code or QR payment method is a good alternative to make transactions fast, simple and secure. These save the consumer the trouble of having to enter their debit or credit card information to pay for their order. This is one of the top cashless payment methods.
But how to add this payment method? The first step to add this payment method to your e-commerce site is to generate a QR code. This is made with unique designs of two-dimensional modules that, combined together, accumulate information such as the destination account and the value of the purchase.

We should keep in mind that, depending on the conditions of the banking entities in each country and the type of account your company uses, the generation of this code requires previous processes. In this case, we recommend that you consult your bank in particular.

2. Integrating the payment method in WordPress

If you're wondering how to add payment options, keep in mind that all major credit and debit cards, PayPal and Apple Pay are accepted on WordPress. Here's how to integrate several methods:

Pay with PayPal
You must add a button on the website page or entry to receive credit and debit card payments. This can only be configured from an active WordPress.com Premium, Business or e-commerce plan account. To create the button and choose the style, you must fill in the name, currency and value information.

Pay with Stripe
For payments of subscriptions, memberships, donations, among others, we suggest using the Stripe gateway. This feature for recurring payments is available for all sites using the block editor and a WordPress.com Personal, Premium, Business, or e-commerce plan. Using this feature requires two steps: activating at least one payment plan and adding a button to your website.
Add an online store using WooCommerce
The main step is to set up a payment gateway, like Stripe, which validates the information on the site, or PayPal, which redirects to its own portal and then returns to the store.
3. Integrate payment methods in Shopify
Shopify allows online payment with credit/debit cards and offline payment via bank transfer. The integration process is simple and consists of two easy steps: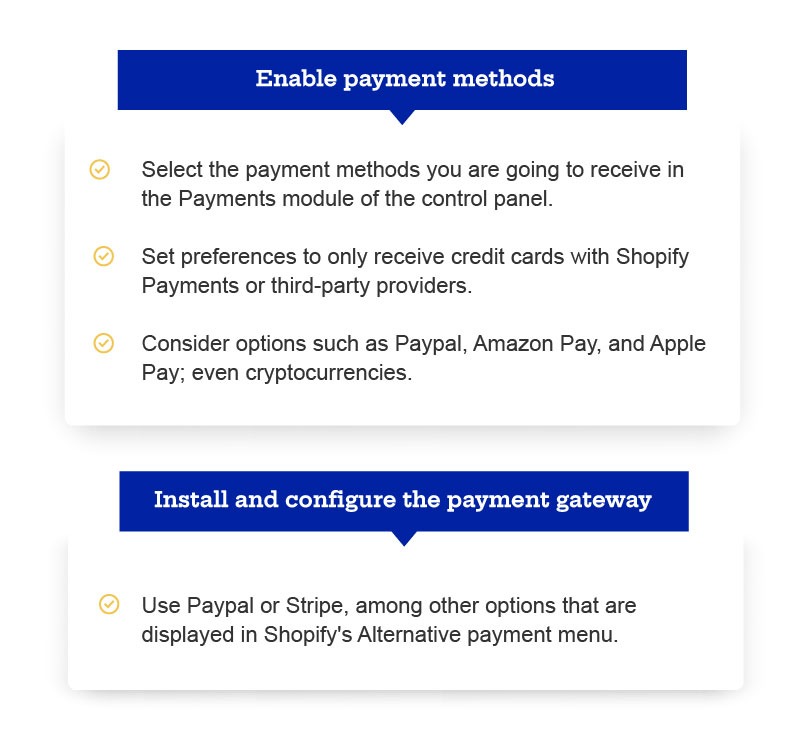 4. Add payments with plugins
The main function of a plugin is to facilitate the use of payment options and keep your customers from leaving your website without completing the payment. The most prominent in the market for e-commerce payments are the following:
PayPal Buy Now button:

allows you to add the PayPal button on the website without the need to embed the code on the site. Users rate it highly due to its simple setup and flawless functionality.

Stripe payments:

using Stripe's credit card gateway allows you to easily insert a "buy now" button on your website; although it's easy to set up, you need to add Stripe's API to your credentials. Users say it's simple, effective and has a good level of support.

GoURL Bitcoin Payment Gateway:

provides a payment gateway for bitcoins and other cryptocurrencies such as bitcoin, Speedcoin, Peercoin, Bitcoin Cash. Payments go directly to your Bitcoin account to be exchanged into the currency of your choice. It is available for free on WordPress.
5. How to add a payment gateway in a WordPress website?
Allow online payments through a WordPress form. In WordPress, one of the most common solutions to have online payment methods involves implementing a plugin to create forms and a payment gateway that are reliable.
A payment gateway is a service offered by third-party companies that evaluates and processes payments and other online transactions securely. Although there are more companies in the industry, some of the most well-known services are:
Stripe, a payment gateway add-on or plugin that acts as a virtual POS and works with major banks.
PayPal. It is true that its commission is higher, but the main advantage of PayPal is its way of facilitating payment to customers and the financing options it offers.
To allow online payment through forms, the most popular ones are Gravity Forms, Ninja Forms and Formidable Forms. They all share the ability to create custom forms that allow you to use payment gateways:
Gravity Forms is a premium WordPress plugin for creating almost any form you can think of. It offers a lot of advanced features easy to use by any user.
Ninja Forms is a free alternative that offers premium extensions. More than a million websites built on WordPress are already using it. It includes dozens of default templates to select the one you like the most, or if you prefer you can create your own custom one based on your needs.
Formidable Forms is another powerful form creation tool ideal for WordPress. Its visual design ensures that the forms enhance your brand. Dynamic fields automatically populate user metadata, saved entries and other information, leading to a simpler and faster checkout process.
This way, you can add digital payment methods to your website as part of the checkout design with the advice and experience of PayRetailers, a company with presence in 12 countries in Latin America with more than 250 payment mechanisms. A solid offer of payment methods may reduce the number of abandoned carts and increase your average sales conversion rate.
How to set up a payment gateway on my website?
Here you will find all of our solutions for your ecommerce in one place.
Learn more about our payment solutions
Here the payment methods que support
How to acquire a payment gateway?
At Pay Retailers you find the best solution for your business in a safe and effective way.
Create your account with us
Get in touch with our sales team