Give your business a boost and discover the 7 best online payments providers you need to know  that are perfect for you. Take a look at them!
What are online payment providers?
These are providers that work to give merchants the ease of receiving payments online without having to have a merchant account. That is, these organizations have their own merchant account and use it to carry out payment processing for people who have an online business.
How does it work?
After you have decided to sign up for an account with a payment provider, a payment page will be added to the online platform you have for your business.
Benefits of using online payment providers
The main advantage is that they provide a better and more detailed overview of all the financial information you have in your account. In other words, you can see how your payments are split up; you can also browse price comparisons and make payments automatically without having to use a credit or debit card.
Among other benefits, the main ones are:
Online payment providers vs payment gateways
The difference between the two is that one is in charge of making the transaction easy while, on the other hand, the payment gateway is more of a tool that checks if the transaction between you and the customer should be approved or rejected.
7 online payment providers
Here are 7 online payment providers for you to check out:
1. PayRetailers
At PayRetailers we are a financial and technological company that provides alternative payment methods; in other words, we are a payment gateway. We work so that different businesses can reach a greater number of customers. We make it easy for our customers to pay by offering different payment methods.
2. Shopify Payment
This is a payment gateway that is part of the Shopify subscription package and works for e-merchants. It allows online payments to be activated with platforms like credit cards, PayPal, Apple Pay, and more.
3. PayPal
This is a company in the online commerce sector that provides an e-wallet service. With PayPal, you can make payments without giving your personal details to third parties.
4. Payoneer
This is a payment request service which lets you bill your customers and receive payments. Through this service, you can send payment requests to your customers and they can pay you through Payoneer.
5. 2CheckOut
This is a platform that uses a third party system for international payments. It transfers money from the buyer to the seller after the buyer has paid.
6. Opayo
This is a company that provides online payment processing services; its services include making payments via a cellphone.
7. Authorize.net
This is a payment gateway service provider that makes it easy for merchants to receive payments via credit card and electronic check by means of their website and with an internet protocol connection.
Payment initiation service providers
A payment initiation service provider that works through an online bank to enable you to make payments over the internet without having to use credit cards or having to use your bank account when you want to undertake a transaction, is an international payment processor.
This means that the service works by means of a platform that makes a connection between the merchant and the customer; that is to say, this provider will be in charge of adding enough information to undertake a transfer successfully (like an account number) and, finally, it is in charge of notifying the merchant on the start of the transaction.
This is how the customer can make their purchase using the internet in a completely transparent way and without any risk.
The best online payments providers everyone should know 
How do e-payments work?
It all starts with the customer authorizing an external provider to access their bank details. Then, a payment interface belonging to this service will ask for the customer's information and the customer will choose their bank and enter the banking credentials to finish the whole process.
The next thing that happens is that the bank will take care of validating the credentials provided and also making the request for the payment transaction. Finally, a security authentication process will be carried out and, once this procedure is complete, the transaction will finalize and the money will be credited.
How do online payment processors work?
This is a service that is meant as a form of support for its customers. Online payment processors benefit merchants by taking the burden of having to have a merchant account off their shoulders.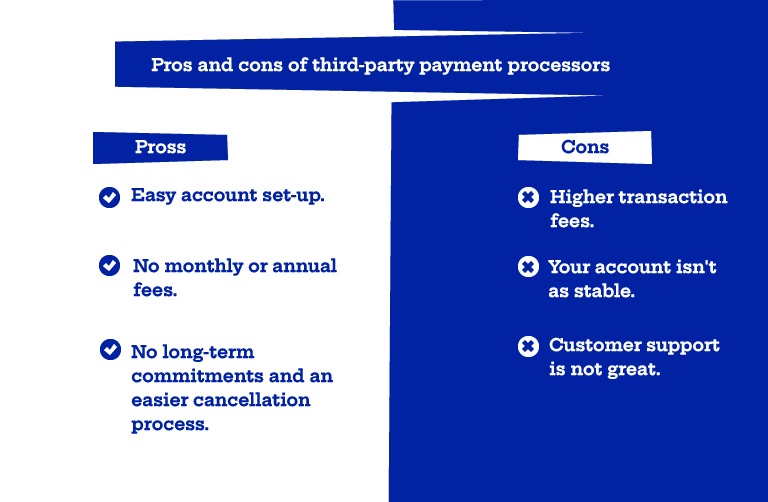 Is Venmo a third-party payment processor?
Venmo is actually a peer-to-peer payment application; that is, it allows one to make transactions easily through a cell phone. With this app, people can pay for services like restaurant food and their rent. In short, it is the rapid exchange of money between people, making quick pay a breeze.
What is the best online payment provider?
There are a variety of online providers; they are well-known companies such as PayPal and Amazon Pay. However, deciding on the best online payment provider will depend on you and your requirements for these services.
Now that we have seen everything in this article, you surely have come to realize that online payment providers are optimal when you want to run a business as they are a feature from which you can reap great benefits with internet payment gateways. We at PayRetailers help businesses to have an enjoyable local commerce experience, as we strive to work in a partnership with our clients.