A PSP service provider is a company that is responsible for the integration of online payment methods in e-commerce stores. PayPal, Mastercard, Visa or American Express stand out. Get to know how they work and much more.

Ecommerce product categories that are going to sell in 2022
What is a PSP provider?
A PSP is a third party that facilitates and helps sellers accept payments, also known as a Business Service Provider or PSP. For online purchases, the PSP will provide various payment methods, including direct debit, wire transfer, real-time wire transfers using online banking, and credit cards. They basically pull everything together to allow a merchant to accept credit cards, and they do so transparently, making the whole process seamless for customers and stress-free for merchants.
A PSP can connect to multiple acquiring banks, as well as payment and card networks. By hiring the services of a PSP, the merchant becomes less dependent on financial institutions to manage transactions, since the PSP can manage bank accounts as well as relations with the external network.
What does payment service provider mean?
If you're wondering what PSP companies are, you have come to the right place.  We should start by mentioning the concept of the PSP payment gateway. Payment gateways are vital payment authorization tools that businesses add to their websites. 
A main characteristic is that they ensure security in the different electronic transactions that businesses undertake, and they guarantee communications between the banks and the business. 
Last, but not least, they provide security to the customers who use them. An important feature of payment gateways is that they make shopping easier for the customer, as they can have any product at the click of a button.
The importance of using payment gateways for e-commerce

Here are the most important aspects to encourage you to use a PSP provider:

Your store will be available at any time, your customers will be able to connect to it and buy whenever they want, 24 hours a day.

As these are secure transactions, new customers will enter who previously did not do so because they did not feel confident at the time of payment.

They adapt perfectly to your business. It doesn't matter the size of the company; thus, PSP providers can be useful for small companies as well as for large companies that are volume-driven.

Payments are validated in real time, directly and securely to the bank account of your choice. Refunds are easy to make — all with your customer service in mind.
The 7 best third-party payment providers you should know in 2022 
PSP vs. payment gateways

A PSP will provide various payment methods for online purchases, including credit cards, direct debit, and real-time transfers using online banking. Everything comes together in a transparent and stress-free way to allow a merchant to accept credit cards.

A payment gateway can connect to multiple banks, as well as to many cards and payment networks. When contracting the services of a payment gateway, merchants can manage the transactions themselves — thus becoming less dependent on banks. Bank accounts, as well as relationships with other banks, can also be managed.


Examples of the most popular payment gateways
Below, we will mention examples of payment service providers worldwide. In fact, you may be wondering: Is PayPal a PSP ?:
1. PayPal
This is a brand that needs no introduction. Its years of experience on the market have positioned it as one of the most secure and reliable payment gateways for companies. It is positioned all over the world and accepts payments for practically all types of companies on the market.

One of its great advantages is that it works with all major debit and credit cards, in addition to offering upsells and low interest rates. Payments cost only 10 cents per transaction, they have no monthly minimums, and there are no cancellation fees.
2. Stripe
The platform for managing online sales develops flexible and powerful tools for online commerce. It is ideal if you have marketplace, subscription, or on-demand services. One of its keys is that it has eliminated the complexities in its system; thus, using it will require only a few minutes.

In addition, it offers constant updates to have the most up-to-date tools for your business. Its large-scale technology is located in more than 100 countries and its rates depend on the size and age of the organizations.

3. Authorize.Net
Accept your payments anytime, anywhere through online payments, mobile devices, etc. With more than two decades of experience, this is one of the most popular payment gateways. The system can also transfer funds from bank accounts, which is a great benefit for small and medium-sized businesses, saving money and time.
The 17 best payment gateways today
In addition to the PSP payment providers or payment service providers already mentioned, there are other payment gateways that might interest you. Here is the complete list:
Should payment service providers be used?
To opt to use a payment service provider, it is important to analyze some aspects.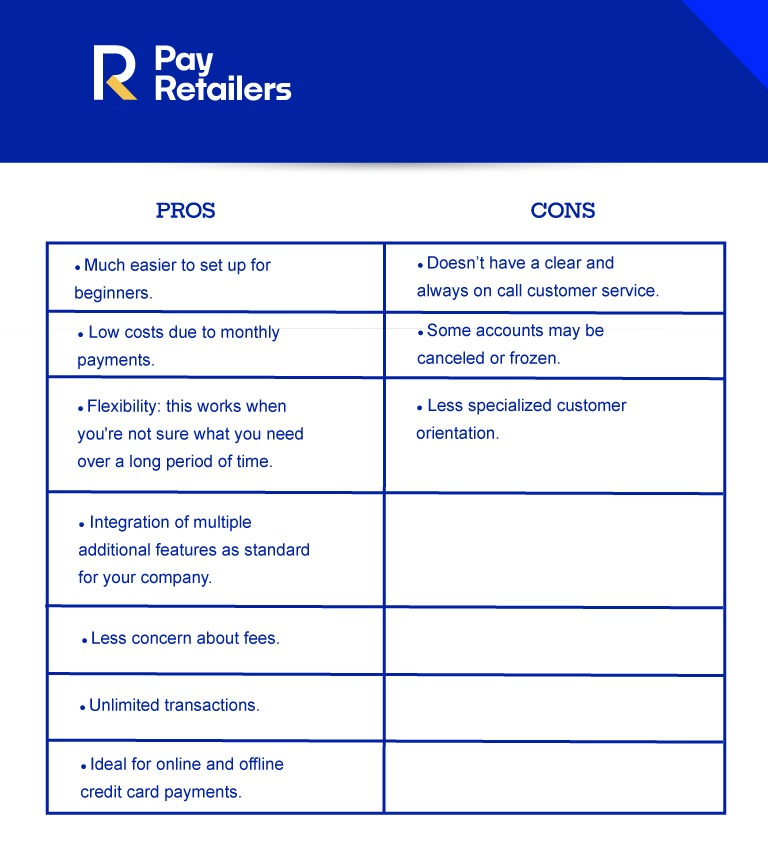 A PSP provider or psp financial is likely to be the right choice for a specific type of business owner. You must first think objectively about what you want to achieve with your business before you start it.

If you want a flexible and affordable method to start your online sales, a payment service provider is more likely to appeal to you. Payment service providers are also useful for businesses that sell large quantities and want to keep costs low.
All mobile payments apps available in 2021 for ecommerce

Your best choice of PSP
We at PayRetailers can advise you. Give us the opportunity to accompany the expansion of your business in Latin America and to guide you with our extensive knowledge of each market. Reach consumers with familiar and trusted payment methods such as cash payments, credit cards, bank transfers, QR codes, and e-wallets.

Make sales in your customer's currency without the need for a local bank and receive payments from anywhere in the world. We have over 250 PSP payment methods in 50 countries. All of them use the same service provider and have a single API. 
You can trust us and feel secure with our world-class audits and constant improvement. Industry-leading security certifications that guarantee data protection in all our services. The best choice for your PSP provider.