Staying afloat as a small business can be challenging in the best of times, but 2020 presented a whole new world of chaos. With these small business tips you can turn into a successful micro business.
Understanding that every successful microbusiness is based on a well-developed idea, the first thing you should do to avoid any unpleasant surprises, is to register that great idea that came from you, as your intellectual property. 
That way you will be able to start working easily, unafraid that someone is going to steal it. Generally speaking, the above-mentioned process is not a very complex one.
Once you have completed this step, which is truly essential, you will need to carry out a study of the market to which your idea potentially belongs. 
Then you will have to satisfy all the legal requirements of your country. Finally, you will have to diligently and intelligently work on your brand.
Also, you need, more than ever to think in an e-commerce, how to build your page, an online store builder, and types of payment methods.
Offer an experience more than a product
As you work on your brand, you will offer an experience more than a product or a service. Consumers today are not looking for just a product or a service, they also want to satisfy their desires, their tastes and even an emotional experience.
It is crucial that the consumer experience involves at least one of the five senses; this is essential when it comes to giving advice to small businesses.
Focus on listening to people and, in the process, identify what their expectations are. Learn how to add a payment method to your website easily.
In this way, you will be able to determine the right added value to create an impact with moments of pleasure, fun, joy, relaxation, beauty, or status. To do this, you will have to be creative and innovative. Don't do just more of the same. You must be creative when you have one of these profitable business ideas. 
How to create the best content for social media in 2022
Optimize your local presence
Before designing and implementing a marketing plan, you need to answer the question: where are my customers? Today through online marketing you can reach anywhere in the world, but you should not forget what you have closer to your small business. 
Through local marketing you will be able to connect with your closest audience quickly and easily. The same must be said of the physical headquarters. 
We show you the right way to use social media for e-commerce 
Create omni channel communication
This is no big deal. Omni-channel communication is nothing more than a kind of communication in which all the customer service channels available to you are integrated. Some of the most important marketing tips for small businesses are: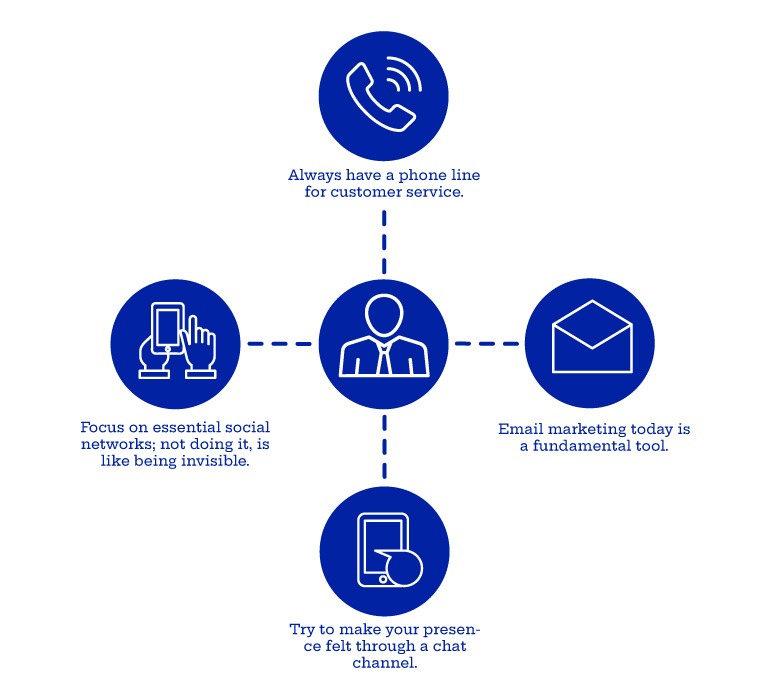 The best social commerce platforms of 2021 
Plan your approach for a good business to start
Today and for some decades now, planning has been one of the most important factors in the business world, regardless of the size of the company. If you plan properly using all the tips given here, chances are that success will come sooner rather than later. Take profitable business ideas into consideration such as:
Email Marketing
These days, there is a veritable arsenal of communication channels that you can and should integrate or incorporate as part of your marketing strategy, either your current strategy or the one that you are planning. We refer here to what is known as email marketing. This digital tool generates prospecting and, most importantly, conversion and loyalty.
This practice will also help you achieve three objectives:
Notoriety, because you are making your business known to many people. 

Image, because you will be able to position yourself as an expert in the niche in which you are working.

Action, the most important aspect, as it consists of selling your products and/or services.
Internet payment methods available in 2021 for safe shopping
Invest in SEO
SEO is what will give your company a presence on the internet. It is not a free service. For your company's website and/or blog as well as your company's social networks to appear at the top of Google's search results, you need to hire an expert.
Content Marketing
This is the need to publish important and well-crafted content on websites, blogs, social media and other communication channels.
But what are the most successful small businesses in 2021? We won't mention their names directly, but we will tell you that some business practices are common to this year's most successful small businesses. 
And one of those practices is, precisely, content marketing. Now, if you don't have writing skills, keep in mind that you can hire writers on the internet.
According to the World Trade Organization, small and medium-sized enterprises were limited in terms of international trade. In addition, a lack of knowledge as to how it works also limited their successful management. Therefore, the microbusinesses that did get it right also succeeded.
This is how you choose the right and best e-commerce CMS for your small business
Make customers the priority of your service
Improving customer experience is one of the most important priorities for small businesses. It's not about selling in quantity, but rather about taking care of the customers that you've worked so hard to win.
After-sales service is more than necessary because no customer will want to be ignored when making a complaint or when they need to know more about operating the product they have purchased. 
By neglecting this type of service, you will lose more than just that customer. Get to know new and improved methods of receiving money like sms payments and the best digital wallets.
That person will also spread the news about any failure to give good after-sales service. This is one of the most important tips for small businesses. 
In summary, successful microbusinesses set themselves apart from the others by developing a good marketing plan, providing optimal after-sales service and very reliable payments, so remember that PayRetailers is a secure gateway for reliable payment, adaptable to the characteristics of any business.
Optimizing a successful micro-business easily