It's essential to know the existing product categories or types to design a good marketing strategy or even to know what you want to sell. To increase your earnings in 2022, you can start from the definitions and tips which we summarize next.
What are product categories for?
A category is a structure which facilitates the classification of reality. They're subjective and useful to know the hierarchy of the elements.

Now, a product is what you offer on the market and its purpose is to solve the needs of your customer. There are tangible and intangible items and there are also services aimed directly at the consumer.

Categories of new products will facilitate various processes such as setting a price or the channels you'll use to promote it. Another benefit is to associate its characteristics with the type of marketing strategy you'll implement for each Google product category and sell accordingly. 

Product categories you should know about
There are as many item categories as there are ways of thinking. E-commerce moves quickly, so we suggest you use practical and easy-to-understand categories in your website, so people know the product category's meaning. 

In the case of online commerce, the product category meaning will contribute to the development of the sale and payment mechanisms. For this reason, we present seven types which answer the question "What are examples of product categories?"
Learn the best selled lines in e-commerce with this product category list:
1. Make up
To sell makeup you can start by deciding whether to make your own merchandise or sell ready-made ones. Then, explore beauty trends and define your niche. Later, stock up with merchandise and set up your online store.
According to Terakeet, "the beauty industry is a behemoth that shows no signs of slowing in growth. How much is the beauty industry worth? Total global sales in 2020 was a whopping $483 billion. With an annual growth rate of 4.75%, total revenue is expected to top $716 billion by 2025.
In the United States, beauty market share by revenue is segmented by the following beauty categories.
Hair care – 24%
Skin care – 23.7%
Cosmetics – 14.6%"

So, if you're interested in starting to sell a new brand of make-up or resell to thrive, you must be hyper-aware of current beauty trends and shape their growth marketing strategies to align with the times.

How to sell on marketplaces 101 (secrets and tricks)
2. Pets
This refers to domestic animals which live with people. The most common pets are dogs, cats, rabbits, birds, and hamsters.
The pet industry statistics clearly show that tastes in pets and pet care is a booming industry. But whether you have a cat, dog, horse, bird, or snake, all these pets need healthy food, hygiene maintenance, a place to sleep, etc.
It's estimated the US pet industry reached $99 billion in 2020 and 61% of US pet owners will pay more for foods to target pets' dietary needs. Cat and dog owners spend about $300 a year on pet food and treats.
The most prevalent strategy for selling these animals is to show them as the best company and future members of the family. 
The best e-commerce tips from experts especially for your business
3. Jewelry
More than 29 million people purchased jewelry online daily in 2020. So buying and selling jewelry online is big business and can be hugely lucrative.
With stats like these, however, it's safe to say that competition is huge.
They can be made of plastic, metals, or precious stones. They're often used as symbols of power, amulets, expressions of personality, fashion, etc.

Defining your brand concept, focusing on a niche, knowing the trends and selecting a profitable production method are some of the most prevalent methods for online sales in this category.
We show you the right way to use social media for e-commerce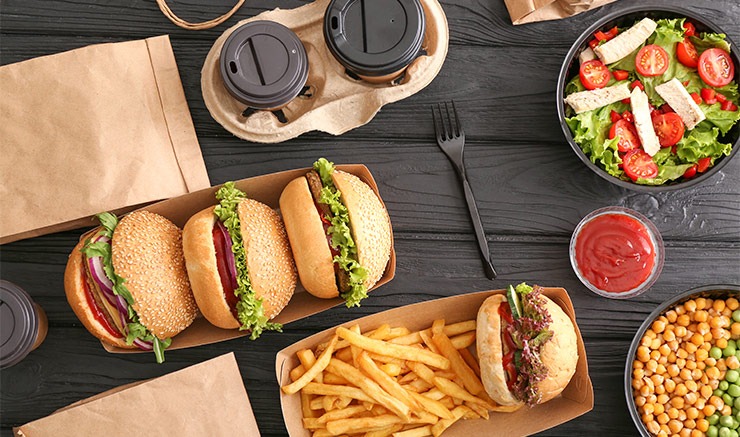 4. Clothes
The online clothes sale marketplace is a large one, and it's only continuing to grow and evolve. 
E-commerce revenue from the clothing, footwear, and accessories sector reached over $100 billion in 2019 in the United States, with projections predicting almost double this amount by 2024. Globally, this number is expected to reach $756 billion by 2022.
With so much potential on the horizon, taking a leap into the world of online clothing stores now can help you capitalize on these trends rather than letting an opportunity pass you by.
To sell clothes from your online store, we recommend you use SEO tools and blog writing, have an efficient technical service to take care of possible problems and set up an efficient payment system.
How to create the best content for social media in 2022
5. Food
Online food sales are a growing e-commerce sector, as customers gradually become more confident with online shopping and start relying on it for their weekly shop. You can confidently sell because this is an example of convenience products.
Consumers are becoming increasingly sophisticated and demanding unusual foods and ingredients, which the internet is able to deliver to them. 
Food can also be sold through online commerce. Below, we summarize the strategies for promoting your brand. Use social media to promote yourself and post images and dynamic content. 
Also, participate in communities which post food photos and invest in the quality of your page. In addition, describe the location of your business based on keywords and check how your website looks on mobile phones.
You have to keep in mind these important facts if you are thinking of selling food online:
The importance of photography
If you're selling food online, it's essential that you offer really good photographs to make the food look inviting and delicious. 
Food is a high turnover product and customers expect to receive it very quickly. That's especially true for fresh goods that are perishable.
It's really important to get food packaging right, both so it looks appealing and communicates your brand values, but also so that the food is protected in transit. 
There are different rules and regulations affecting food sales. Under EU regulations you need to list things such as allergens in your ingredients list and have a use by date on your packaging.
How to create your own product category
Here are six ideas for creating your own categories: 
Establish categories which can contain subcategories.

This will not only be useful for the user but will also help you have control over your inventory and sales. We suggest you keep the categories in the menu and the subcategories in the drop-down sections.

Select classifications which stimulate the desire to know.

Scouting is a productive activity for people who are indecisive, and to encourage potential consumers.

Build a news section.

Potential customers are often interested in the latest trends.

Suggest items which are compatible with the purchase.

Grab your user's attention before they complete their purchase. For this, you can offer categories which complement the characteristics of the merchandise to be handled.

Write a list of the most purchased and most viewed items.

Consumers often consider the opinions of other consumers. Showing them what others have seen or bought will stimulate their curiosity.

Use images of your merchandise only.

The photos immediately catch the attention of potential customers. For this reason, it's preferable to show only what you offer in your online store.
Categories will allow you to show your customer all your products in an orderly way. This will improve the image of your brand and stimulate that potential consumer's desire to buy. 
How can I have more payment methods for my online store?
At Pay Retailers we have the online payment methods that will make your business take off. Learn about the options you need here.
Learn more about our payment solutions
Here the payment methods que support
What integrates a payment gateway to my website?
Integrating a payment gateway to your website will give you a competitive advantage. We help you in this process.
Create your account with us
Get in touch with our sales team
Finally, to keep their interest, we suggest you design easy-to-understand payment methods. At PayRetailers we can advise you on choosing these processes and successfully completing the planning of your website.
How to sell online for free in 2021 (tips and tricks)