The holiday season is just around the corner and learning how to sell efficiently and safely in the different digital financial systems is vital, since that will ensure that you have consistent income in your business with knowledge of e-commerce statistics.
Let's learn how to get your brand out there and get the most out of it through the 5 ecommerce trends to keep in mind at Christmas time.
What should we do to ensure that we have the best profits in this very commercial season? Here are a series of steps and tips to follow to get the most out of it.
What is the first thing to do in online shopping trends?
Adapt navigation systems to create fast and easy shopping experiences.

Take into account the quality of the products and use raw materials that do not harm the environment. This gives companies a very good image.

Define a target audience for your products. It is useful to always know who you are targeting and what need the customer is hoping to meet.
5 biggest trends in e-commerce for the holiday season
Here are the 5 points you need to know for this important season:
1. Augmented reality in e-commerce
Experts estimate increases of up to 71% in sales thanks to the implementation of augmented reality in an online store.
This technology achieves greater interaction with the consumer and a unique and satisfactory experience, since this experience is close to the one that a customer can have in a physical store.
Augmented reality also allows great possibilities when it comes to showing products to consumers before they move the purchase process.
During the pandemic, the use of artificial intelligence applied to e-commerce was strengthened. This will make it possible to improve the services of online stores. One of its most frequent uses is personalization.
Thanks to this, and according to eComm360, data is collected that allows recommendations to be made to the user according to his behavior in the online store.
An e-commerce future must always be at the forefront in every aspect, since trends are becoming more and more innovative every day. Also, competition on the web can be fierce, so it is advisable to keep your social media and official website current.
3. Social Media Shopping in e-commerce
There is no doubt that social networks are one of the strongest tools in e-commerce. The two reference networks in this context are Facebook and Instagram, which began to implement it from 2020. The company says that up to 64% of the users of these social networks have already bought at least one product through them.
4. Mobile commerce
According to published data, 71% of the traffic received by e-commerce websites comes from mobile devices. It is therefore important to take them into account, since most of Generation Z is immersed in these devices.
5. Employing 360° images and videos
One factor supporting this trend is users' need for greater detail when shopping online. This tips the balance towards the use of images and 360 videos, as they allow users to interact and observe the product they are going to buy from a distance in greater detail.
These tools could also have an impact on the reduction of reverse logistics processes, as it gives the customer greater certainty about what they will buy.
For example, the Walmart Wonder Lab toy website uses 360 images and videos to give its users the opportunity to try online what it sells; it is fun for the buyer and functional.
What is trending in e-commerce?
Basically, they are the current inclinations of the digital market, the strategies and adaptations that allow for improved sales, and their future projections.
How fast is e-commerce growing
Today, we are in the midst of a true technological revolution, and ecommerce is not on the fringes. It is estimated that by the year 2025 alone, e-commerce will increase by 15% annually, and e-commerce statistics show that by the same year, the percentage of user spending will be between 40 and 50%.
Asian countries are leading growth in e-commerce sales. Surprisingly, Latin America is among the top regions for online shopping, right after Asia and the United States. This is associated with the large number of start-ups, most of which are ventures that are a perfect fit for e-commerce. In addition, the pandemic further catalyzed this type of commerce due to the lockdowns that most countries were implementing until last year.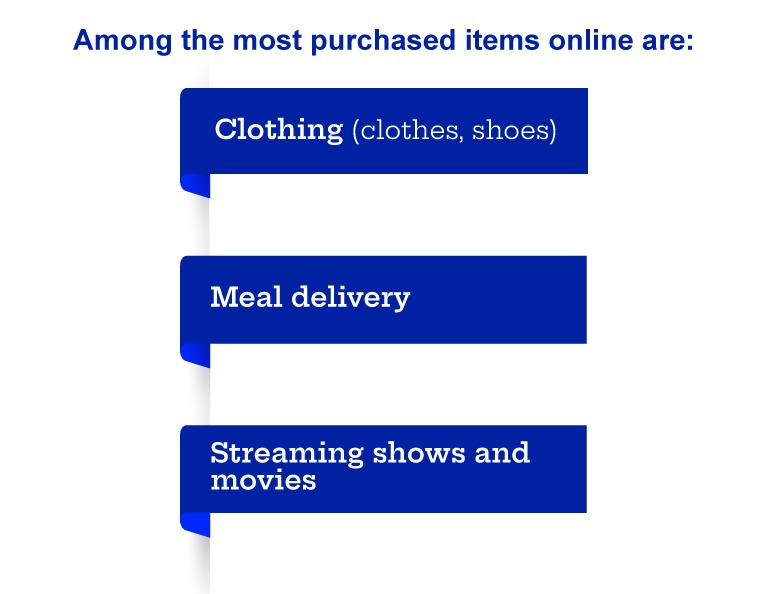 E-commerce trends for B2B
These trends are of utmost importance to companies, since they allow them to acquire a unique language with other corporations, enabling a continuous flow of information and exchange between them.

The e-commerce trends for B2B include:
Application of volume discounts.

Offering highly complex products, adapted to the needs of each company.

Creation of a standard language that will allow for greater efficiency.
E-commerce trends for B2C
These types of stores, unlike B2B stores, offer a standard price per product, which means that you will not get any discounts on high volume purchases. However, there are some trends that may help when planning your business sales, such as:
Considering the value generated by your brand.

Remembering that even though you are selling to a company, that company is managed by people, so you must keep in mind that you are always selling to a person.

Using strategic videos that can generate significant traffic and help finalize important sales.

Creating a personalized experience that generates a unique environment for each customer.
December has always been one of the most commercial months, so most ecommerce companies prepare to make the most of it by designing advertising and sales strategies to offer the best to shoppers.
Payment methods are extremely important in building consumer confidence. If someone has a poor checkout experience, you're bound to lose that customer. 
For that reason, companies like PayRetailers can offer you a guide to strengthen this vital part of your company, since through our services you will be able to make and receive payments from whatever country you are in without any problem. This will allow you to expand and market anywhere.

The COVID-19 pandemic has somehow made the world even more digitized and virtual, where the purchase of lunch, clothes, appliances and so on is just a click away. 
Many companies that have not been able to adapt have disappeared, while others, with ingenious new ideas that go hand in hand with the modernity and speed to which we are exposed every day as users, have survived and thrived.

Researching and studying e-commerce statistics will allow you to always be at the forefront, and help you strengthen your brand on the market. Remember that innovative ideas appear every day that can benefit or harm you, but don't worry, just stay up to date with what is happening and take measures to innovate in your business and make the best profits.
Always remember to learn what the online shopping trends are!