Digital sales have surged, forcing companies to transform how they sell and to change, in turn, the structure of the organization itself, with an adapted workforce to meet the need of having an online presence.
What is digital selling?
Digital selling can help your company boost its online sales. It is the coming together of the organization's human, technological and digital resources to achieve a single goal; to boost sales.

This strategy, which has been adopted by industries to improve their sales, is made up of several elements that help meet the objectives, such as inbound marketing, content automation, social selling, a sales-focused organizational chart as well as collaborators with personal branding on the company-run social networks.
Each department has worked independently, seeking to meet objectives separately and without taking into account the opinion of other colleagues. However, all the company's departments must work together.
Optimizing all the company's resources will be key to achieving the objective; internal communication must be fostered and each team member must be involved. Staff must be trained in
digital sales
to get first hand knowledge on things that could be improved internally and externally alike.
Each and every one of the company's communication channels should be taken advantage of, not just to promote the product or service, but also to create valuable content about it.
Many of these social networks have become sales channels for companies,
offering advertising services and virtual stores
to showcase their products, all integrated into the business website where transactions are made.
In this day and age, buyers have more information than ever before and can easily compare products or services with those of competitors, which
is why it is so important to set out the value proposition of our business and communicate it properly
.
What is social selling?
Social selling uses the media as sales platforms, using the channels to forge friendly and lasting relationships with customers or prospects.

New customer needs have led businesses to build systems to improve their processes and, in turn, drive sales. With the emergence of new technologies, businesses have simplified their activities, allowing them to save money.

In social selling, it is key to forge emotional relationships with the target audience to convey credibility and instill trust in the brand.

The main challenge of digital transactions is to instill confidence with a view to more people accessing these sales channels; customer satisfaction and product quality will depend on people coming back to make purchases time and again.

The staff plays a key role here and each employee, as well as fulfilling a function, also conveys the company's image through their attitude when dealing with a customer and the solutions offered, all of which comes into play when a consumer makes their purchasing decision.

No one can speak better or worse of a company than its own employees, so you need to choose the right people for each position and make sure they are committed to the company's values, offering workers decent conditions so they give it their all.
Differences between social selling and digital selling
Social selling is part of the digital sales strategy; some differences between these two concepts are:
Digital selling includes all parties involved in selling, employees, marketing strategies and customer relationship building.
What's more, it involves each of the company's departments so that they work together.
Social selling is about forging relationships with customers using the company's social media channels.
Digital

analyzes the overall business and sales process to optimize it, whereas

social

improves customer relationships.

The dizzying rate of technological change, the acceleration of processes brought about by the pandemic and the rise in digital transactions have transformed the way people and companies shop.

Not just the end consumer has benefited from these advances; B2B transactions have risen, improving relationships between all parties in the production chain.
Strategy with digital and social selling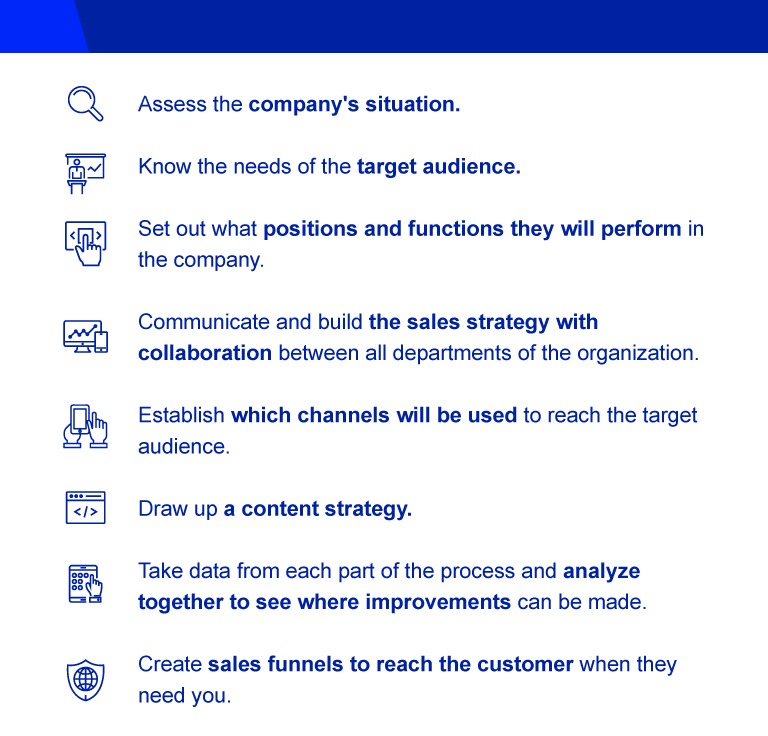 Investing in digital marketing was an option for companies only a few years ago. However, now it is a must if you want to reach new audiences.

We show you the right way to use social media for e-commerce
Pros and cons of digital sales
There are many benefits of digital sales, however, there are also risks that you should be aware of before rolling out the strategy.

Pros of digital selling
Social networks are a fresh channel for new audiences that increasingly rely on online transactions.
We can segment marketing strategies.
Allows to identify business opportunities.
By optimizing these processes, the brand image is strengthened.
Improve customer interactions.
It contributes to improving the engagement of the target audience because it focuses on their needs.
As the number of channels increases, so does the content reach.
As it is a strategy geared towards boosting sales, the company's revenues increase.

Cons of digital selling
Although there are many advantages, one thing that needs to be improved is the security of each transaction.
Poor protection of personal data by some companies.
Many people are wary of businesses that only offer their products or services online.

Digital sales are a great option for small businesses or ventures that do not have many resources, but do have a good product or service that. With the advice of professionals, they can include a payment gateway to the business website and, in turn, boost sales.