Mobile devices have become an essential part of everyday life. More and more people use their cell phones to perform a variety of actions, like purchasing products, hiring services or as a mobile payment gateway. For this reason, it is not surprising that this latest concept, also called mobile wallet, has become a popular financial application.
Pros and cons of mobile payment gateways
There are multiple payment gateways and these are their main advantages:
It is an alternative to the use of cash.

Multiple establishments and sales pages support mobile payments, so cash is not required.

It replaces the use of credit or debit cards

. No banking terminals are used.

It saves time and effort

. There is no need to wait in line at ATMs, nor is it necessary to go to establishments to complete financial transactions.

It provides a greater sense of security.

Disclosure of private and sensitive financial information to third parties is protected. It is not necessary to provide card numbers or security codes.

It's a valuable tool for e-commerce.

Several companies and individuals offer this payment option to their customers. A product or service can be bought and sold remotely, all managed through a mobile device.
Mobile payment is a great option available to everyone, compatible with multiple smartphone and tablet models. However, as with any tool, there are aspects that must be taken into account when opting for its use. Therefore, we will also mention the disadvantages:
Mobile payment is entirely dependent on mobile devices.

As it is a technological application, it can only be used if the device in which it is installed is operating regularly. It won't work if the device has no battery.

No ID is required to operate.

The mobile payment app is linked to a bank account. If the device is lost or misplaced, and a third party has access to it, they could complete banking transactions without the account holder's authorization.

Having established the advantages and disadvantages of this technology, the question remains: which payment gateway is best for a mobile app? PayRetailers is the solution. We are known for our excellence in offering payment gateway services.
What is a mobile payment?
Many Internet users ask themselves the same question: what is mobile payment and how does it work? It is an app for mobile devices. Through mobile payment, various monetary transactions can be made securely, without the use of cash, credit or debit cards. Multiple currencies can be received and transferred at any time of the day.
How does a mobile payment gateway work?
Once you know the description and benefits of using mobile payment, the question arises: how do I use the payment gateway app? It's very simple.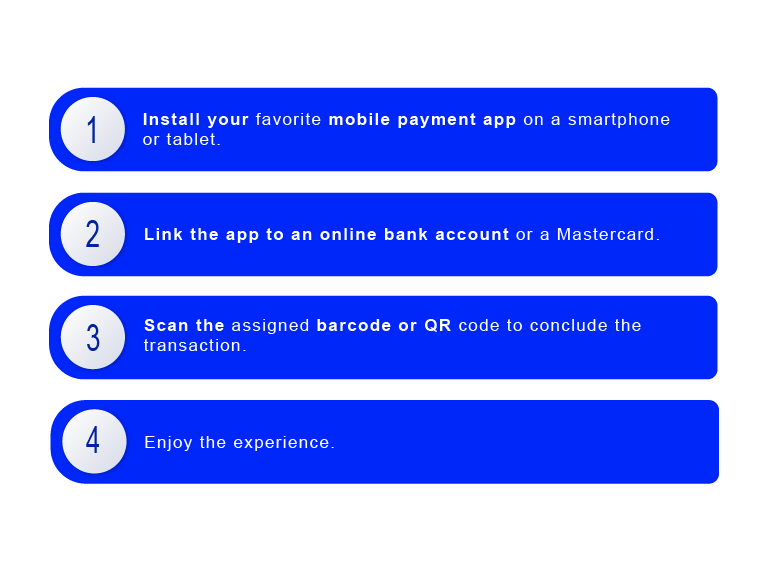 How to choose a mobile payment gateway: 5 questions to answer
Now that we've decided to use a mobile payment gateway, it is important to know: what are examples of payment gateways?

Several international banking institutions have their own mobile payment apps and payment integrations. Additionally, several companies have developed their own financial technology, including: Paypal, Google Pay, Apple Pay and Samsung Pay.

1. What is your target audience?
Mobile payment can be used by a very wide audience: people of legal age with an active bank account. Bank account holders can request access and training in the use of the mobile app from their bank.

Android and iOs users with a Gmail account may find Google Pay a useful tool. Users of iOs can choose Apple Pay, while Samsung fans will find the Samsung Pay platform an ally for their economy.
2. What payment methods do your mobile app users prefer?
Internet users, like most people, like to have several options. If you own an e-commerce site, the best option is to integrate a payment gateway that supports the main mobile payment platforms.
3. How much does it cost?
Mobile payment apps charge a small fee for providing their services to both individuals and corporations. The commission varies from company to company. Therefore, purchasing through the app does not involve any commission, unless the purchase involves currency conversion. Then 3.5% to 4% is charged. The same percentage plus a fixed commission is the cost of selling from the app.

4. Is the mobile payment gateway scalable and customizable?
Of course. The mobile payment gateway is tailored to each user's individual needs. It operates on the basis of the individual's personal finances, is a secure and reliable tool, records movements and provides a glimpse into the history of operations.

5. Does it have security certificates?
Every financial transaction established online requires compliance with four security principles: authenticity, integrity, privacy and non-repudiation. This means that virtual currency transfer transactions are executed between real people, protecting data confidentiality. This is done under a secure communication and security protocol, either SSL or SET.
SSL

is the acronym for

Secure Sockets Layer

. It is the most widely used method in today's e-commerce.

SET

is the acronym for

Secure Electronic Translation.

It is an alternative with reduced transaction costs between the customer, the company and the bank that manages the purchase.
Just as it happened with e-commerce, both mobile payment and mobile gateway will go from a trend to a reality.