For many sellers, offering a crypto payment gateway as a means of payment may be an unknown and risky decision. However, nowadays you can establish cryptocurrency payment safely and effectively.
What is a cryptocurrency payment gateway?
Cryptocurrency payment gateway APIs are applications designed to carry out purchase and sale transactions using cryptocurrencies as a payment method.

Through payment processors, the amount in cryptocurrencies can be converted into fiat money and deposited directly into a bank account – and vice versa.

There are also crypto-to-crypto payment gateways, with which transactions between cryptocurrencies are carried out without converting the digital money into fiat currency.

Every day, more and more companies are joining in accepting payments with cryptocurrencies, as this is the best way to diversify and grow their businesses.

How does a cryptocurrency payment gateway work?
There really isn't an established standard for working with a cryptocurrency payment gateway, as you just need to have a virtual wallet and be sure you are working with trustworthy payment processing companies. 
A good example is PayRetailers, as with them you can safely perform all types of transactions with cryptocurrencies.

The most common explanation is that cryptocurrency transactions travel as payment data to a general ledger where the data is stored on a blockchain.

In this way, several channels are created to process payments with cryptocurrencies, making each transaction an irreversible process that is difficult to falsify.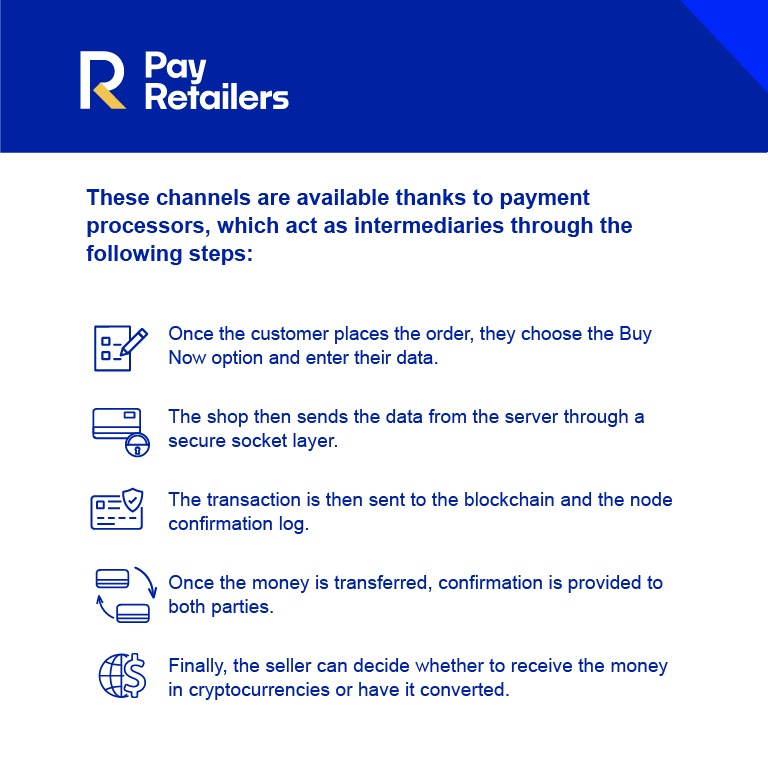 Regardless of what you consider the best crypto payment processor to be, this digital transaction method is characterized by being:
A fast peer-to-peer transaction:

Bypassing the bank as an intermediary streamlines the exchange between the customer and the seller, making cryptocurrency payment a safe and fast process.

Intermediaries disappear:

With peer-to-peer payment, the figure of the intermediary is eliminated and so too are the commissions that each bank charges for each transaction.

It integrates easily:

Cryptocurrency payment options can be seamlessly

added

to any existing platform or application. Installation can be requested of the payment gateway provider by the customer.

Instant conversion:

The value of cryptocurrencies fluctuates a lot on the market; however, payment gateways allow customers to convert

fiat money

to any currency in real time. In addition, each page offers up-to-date information on prices and market variations.

Multi-platform support:

These payment methods are friendly with traditional operating systems like

iOS and Android

; thus, you can download the apps to your favorite device.
Why should companies accept cryptocurrency payments through digital payment gateways?
The benefits that cryptocurrency payment provides to sellers and businesses are many. Among them are:
Extensive geographical coverage:

By opting for cryptocurrency payment, sales borders are opened, allowing any user to find and buy products anywhere in the world. All this thanks to the universal nature of virtual wallets.

Trust:

The era of transactions rejected by the bank and the age-old «system down» error is over. A

blockchain

-supported wallet will hardly reject a transaction and will be available at any time of the day.

Low costs:

Most transactions with cryptocurrencies hover around 1%. Some better known transactions with PayPal can run to just under 3%.

Speed:

Sometimes withdrawals to virtual wallets in fiat currency can take up to a week to view. Receiving payments with cryptocurrency can be just a matter of minutes – even seconds.
How do I accept Bitcoin payments?
The number of payments in cryptocurrencies increases every year and there is no sign that this will stop. With the consolidation of bitcoin as the highest value cryptocurrency, it is necessary to add this form of payment to the existing options. If you want to get into the world of payments with bitcoin, these are some of the things that you should know:
Create a Wallet:

Register in a

wallet

, which is where you will receive payments in bitcoin and other cryptocurrencies.

Establish the authorized means of payment:

 With bitcoin, you can choose several types of cryptocurrency payments or use all the options to give customers more choice.

Among the best known options are:
QR Code:

Your public bitcoin address can be displayed by showing your QR code so that customers can scan the code from their wallet and make the payment.

Wallet-to-wallet payments:

 Another option is to transfer the amount in bitcoin from the customer's wallet to the seller´s wallet without the need to publicly display any data (as is the case with the QR Code method).

In addition to conventional payment processors, exchanges offer the option of payment with bitcoin and other cryptocurrencies.
Does WooCommerce have a cryptocurrency payment gateway?
Cryptocurrency payment is possible with WooCommerce since this sales platform for WordPress does indeed allow you to use different plugins to add bitcoin as a form of payment.

You just need to choose the best and most reliable plugin for accepting WooCommerce cryptocurrency payments. Once selected, you install it to the sales platform in the same way that platforms like PayPal or Stripe are added.

There are several plugins designed for sales with bitcoin on the digital market, such as GoURL, WooCommerce, and Bitcoins Payments, all of which calculate the prices of products in bitcoin and also work with other cryptocurrencies.
How to set up a payment gateway on my website?
Receive payments securely and easily with a solution that adapts to your business. See here how it works
Learn more about our payment solutions
Here the payment methods que support
How to acquire a payment gateway?
Consult with real specialists in payment methods for your ecommerce.
Create your account with us
Get in touch with our sales team

The experience and support that PayRetailers offers to its affiliates can provide you with a wide range of opportunities. With our cryptocurrency payment gateway, you can boost your sales to the max.