At PayRetailers, we know how hard it can be to build an online store from scratch. There are many tools available to users, but not all will get the same results. Nevertheless, one of the fundamental pieces in this aspect is the use of a payment processor. Therefore, we want to give you the necessary information in this guide so that you can improve the shopping experience on your e-commerce site.
How does a payment processor work?
We must first consider the concept surrounding a payment processor. A payment processor is nothing more than a terminal that is responsible for undertaking different transactions to process payments at the time of a purchase. 
At this point, the personal data of both the buyer and the seller are stored. This ensures that the process is safe, fast, and reliable at all times.

Under this premise, most payment processing services work as follows: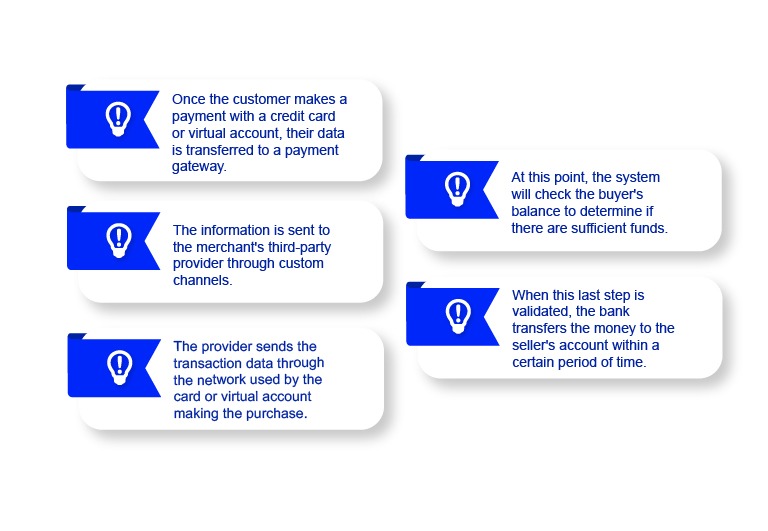 It should be added that the speed of these transactions can vary depending on the type of processor you use and the payment processing systems. We recommend doing a market study to make the best decision for the short and long term.
What are the main features of the best website payment processors?
On the market you can find a wide variety of payment processing companies whose services are very different from each other. Each alternative presents an action plan that adapts to the needs of different sellers. 
However, it is crucial that you choose the tool that allows you to reduce expenses – both in terms of time and money.

When choosing a payment processing platform, you should consider whether it has the following features:
Effective data protection for website payment processing
Remember that your customers' information must remain out of the reach of malicious users online. This includes credit card transactions and transactions with virtual bank accounts. Learn about the security protocols these services use in order to obtain the best results.
Transfer speed
Balance transfer channels usually become congested if they are not well optimized. It is important for sending money to be fast, simple, and intuitive for any potential buyer. Most credit card processing companies today offer a fluid, consolidated transaction network.
Platform compatibility
​A quality payment processor must be able to adapt to and work with different platforms. Modern web technologies use encryption methods that vary quite frequently. Therefore, services of this type must offer optimal performance on both computers and mobile phones.
Ability to work with any bank
​Bank data networks have seen great diversification in recent years. Therefore, a high-performance payment processing service must provide different payment options in one place. This will expand the reach of your business to a much larger audience. 
The top 5 payment processors
Are you looking for the best payment processor? You can find different payment processing services on the internet, but not all offer the same benefits. Some of the most used platforms today are the following:
With more than 10 years' experience, PayPal is one of the most used internet payment platforms today. It has a mobile app and a high-speed transfer network in many countries.
​Payeer allows you to make payments in different types of currencies quickly and safely. It was created in 2010 and has extensive reach throughout Latin America. Just like PayPal, you'll get a lot of benefits if you verify your account. You only need to link it to your credit card.​
Neteller offers the chance to add funds with bank transfers. In addition, it provides bonuses to its users when making purchases through its platform. It has extensive coverage and optimal stability.
​This platform has one of the lowest commission percentages on the market. It offers fast and secure customer service in order to improve the user experience when making purchases. You can add funds to your balance using cryptocurrencies.
​Uphold works as a high-demand payment platform for e-business sellers. It is able to accept transactions in many types of currencies, which gives it extensive market coverage. The registration and identity verification system are easy to follow.
 What payment processing platforms to use?
Today, PayPal is recognized as the best payment processor. This is due not only to the years it has been on the market but also to its profitability and general usability. 
The account verification process allows you to send significant amounts of money without any restrictions.

In addition to this, it is also worth noting that it is the largest online payment method worldwide. By using this platform, you will be reducing expenses at a functional level and maximizing the reach of your business in quite a broad way.
PayPal is a payment processor that has account types for regular users and sellers. With these options, you will be able to protect your assets from scams and unfounded money refunds. In addition, their buyer protection plan provides a sense of security to your customers when they finalize their purchase – no matter the time of day.
We at PayRetailers want to support you in the projects you have in mind so that your e-commerce site continues to grow. Check with us so that we can provide you with the most accessible and efficient alternatives on the market.