To get to know how the NFC credit card works, we show you how this innovative payment method has opened up new possibilities for customers and businesses alike to pay without physical contact.
How NFC contactless payment works?
To find out how this modern payment method works, first of all we must answer the question, "what does NFC and contactless payments mean?"

NFC or contactless payment is a technology that facilitates the sharing of purchase and sale transaction data without physical contact between the devices involved.
This happens when two different digital devices exchange information when placed in front of each other when paying, in a process called "close proximity communication".
This data exchange is carried out within no less than 4 centimeters, which makes it a reliable payment alternative.
The connection can be made in two ways, firstly, through an NFC chip that the devices involved have built-in and that exchange information through magnetic fields.
On the other hand, a device takes advantage of electromagnetic data from another NFC device to transfer information wirelessly.
At PayRetailers, we offer you the technological infrastructure you need to take a leap forward and incorporate the new wave of NFC payments into your business.
Can I use NFC to make digital payments?
Yes indeed, although many people are still asking themselves the following question: What are NFC and contactless payments on my phone? This new payment method is becoming increasingly popular.
To configure it, first of all you must make sure that your bank offers this option. You must also have downloaded the bank's application, or the application designed for this type of payment
If you want to know "what NFC contactless payment is", the procedure is rather simple: in the "settings" window, select the "NFC" option and click on the payment app you will use.
Then, move your phone close to the payment terminal so that it reads your bank details; if it does not read the tag, keep the bank's application open with the NFC option turned on.
On iPhones, newer models such as Xs, Max and XR, automatically read the NFC tag; they can even read the tags in the background.
Also, from model 7 onwards, although after model 8 there is no need to download an application that reads the tags to make the mobile payment.
How to accept NFC payments
If you already know «what NFC and contactless payments mean», now you'll be wondering how to accept this payment method in your store to get paid for your sales.
For a business to accept contactless payments, you need a payment terminal that lets customers bring their cell phone or card up to it to complete the transaction.
After the customer brings their mobile device close to the terminal, they will hear a beep and the LEDs will light up as a signal that the transaction has been approved.
Providing that the security policies of each bank, transactions may require a signature; some entities require this for purchases over $25.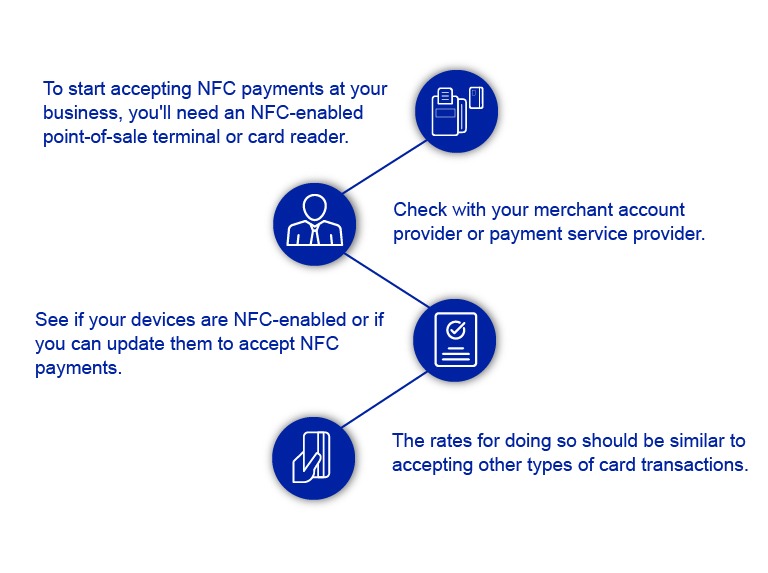 PayRetailers' services promise you that every transaction will be as secure as possible so that your NFC sales are reliable.
As for commissions, these are usually the same as those applied to credit card payments, since they are processed in the same way.
What are the most popular NFC payment platforms?
Google Pay

Samsung Pay

Apple Pay

PayPal

Bizum

Binance
Find out what is a hosted payment page?
Pros and cons of NFC payments
The COVID-19 pandemic sped up the expansion of payment methods such as contactless due to the low risk involved in paying while eliminating any physical contact between people.
Pros of NFC contactless payments:
Send information quickly and under strict security measures.

It is a convenient and simple experience that makes it easy for customers to pay for products and services.

You always keep control of your money, as you do not give your card or bank details to anyone.

It helps businesses attract more customers by offering a new payment option, bringing them back to shop again.

NFC payments are fast and efficient

. They allow you to get paid quickly by getting rid of administrative procedures and increasing your cash flow.

You simplify the sales process, from the date of sale to the final cancellation of the invoice by the customer.

It is available in almost all modern electronic devices, including audio equipment and even household appliances.

It is a great ally of accounting processes with software such as the one

offered by PayRetailers,

saving you piles of paperwork and invoices.

You save time on procedures such as invoice collection and bank reconciliation, which means you can focus on other activities such as expanding your business.
Cons of NFC contactless payment
Some businesses have not adopted NFC as a payment method and many users still do not know how to use it.

When you rely on your phone to pay, the

downside

could be when

you run out of battery or your phone stops working, leaving you literally with no way to pay.

It is not the best method for making remote payments, as it requires the devices to be in proximity.

It is dependent on the internet, so if there is a network outage it will be impossible to make a purchase.
How to set up a payment gateway on my website?
Use a secure and effective payment network to grow your business. Acquire payment methods on your website.
Learn more about our payment solutions
Here the payment methods que support
What integrates a payment gateway to my website?
Expand your ecommerce with our localized payment solution. Consult with real experts.
Create your account with us
Get in touch with our sales team

The world is evolving, and, in turn, comfortable payment methods are making it easier for customers to make purchases.
And, although there are still people who opt for traditional payment methods, knowing how the NFC credit card works is a wise and completely secure option. 
Come on, start using it!
How to evaluate the best online payment gateways for small business