COVID-19: e-commerce in Latin America
With the arrival of the unexpected COVID-19 outbreak, e-commerce consumption in Latin America accelerated. It is estimated that a significant percentage of sales will be reached within five to ten years.
A figure that was surpassed due to the confinement, driving consumers to be on online platforms to access their goods and services; pushing merchants to migrate their sales activities to e-commerce channels.
In 2021, the transformation has represented an important driver of economic recovery for the different businesses operating in Latin America, and a turning point in online consumer behavior as an opportunity for commercial diversification in the different sectors of the region's economy.
Latin America's potential
In Latin America today, the new speed of e-commerce adoption is not limited by geography, i.e., purchases are becoming faster, safer and more efficient, thanks to payment processors such as PayRetailers.
Offering consumers, in a single integration and from anywhere in the world, an optimized payment platform with the fitting range of online payment services in each LATAM country. Achieving reliable transactions to have a higher conversion rate as a benefit of any online business.
According to Americas Market Intelligence data, Latin America is the second-fastest growing e-commerce market in the world, expanding 25% annually by 2021.
By 2025, the number of e-commerce users is expected to reach 4,934.6m, with a penetration reaching 63.1% by the same year.
Today, as the Covid-19 vaccination process progresses, the acceleration of online consumption already reflects the future. E-commerce platforms continue to bet on Brazil, Mexico, and Chile, markets that have proven to be global powerhouses for large e-commerce players.
Potential segments of e-commerce
As in the rest of the world, the pandemic in Latin America caused profound changes, not only at the economic level; the reconstruction of businesses modified and challenged the e-commerce sector to improve its practices.
As part of the payment experience offered by the different platforms of these businesses, business models have been redeveloped with consumer loyalty programs. In addition to the reconstruction of interfaces with innovative and intelligent design to meet the changing shopping and payment behaviors of customers.
Digital trends have become a priority. By the end of 2040 more than 95% of purchases will happen online, according to Nasdaq.
Between 2021 and 2024, the fastest growing e-commerce segments in Latin America will be:
Gaming
Streaming
Marketplaces
According to AMI's research, the growth of online gaming in LATAM is due to the fact that youth and young adults have become increasingly banked, which has allowed online transactions to increase with greater frequency within the sector. Especially in countries such as Brazil, and even in smaller countries such as Peru.
Market overview
E-commerce volume in Latin America will present a compound annual growth rate (CAGR) of 30% until 2024, representing USD 592bn in revenue by the same year,
According to the Global Payment Report 2021, in 2020, Brazil was the leading e-commerce market in Latin America, generating approximately USD 36bn in revenue. Mexico ranked second with USD 29bn. However, according to the report, the North American country is expected to close in on the top spot by 2024.
And this year, e-commerce sales in Mexico are set to reach USD 53bn, about USD 3bn more than Brazil's forecast.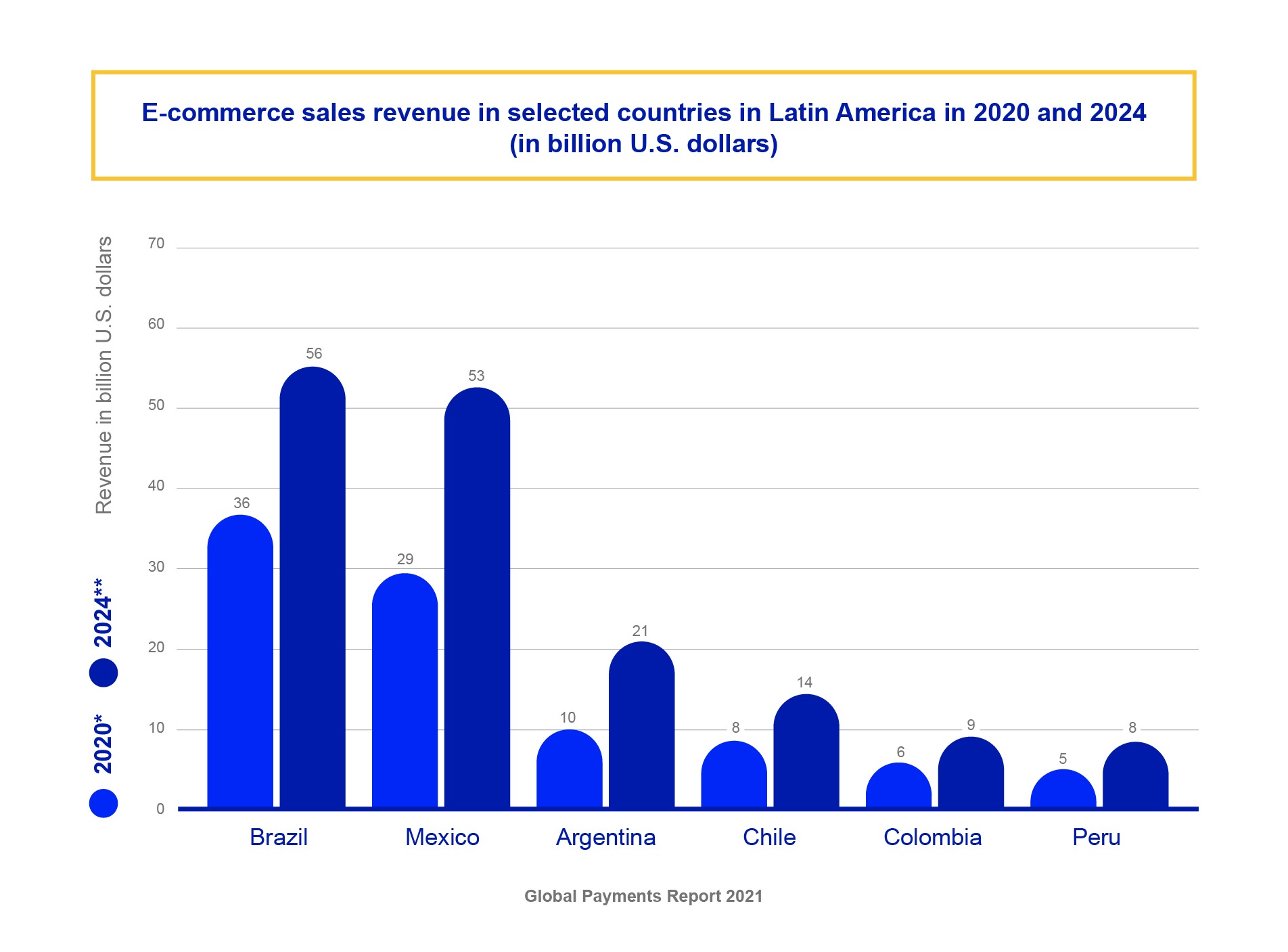 E-commerce payments
Latin America is one of the most complex regions when it comes to payment methods. To access customers, it is necessary to offer payment methods known and used by consumers in each country, considering that cash payments still predominate in the region.
However, as a result of the COVID -19 outbreak, the use of cash decreased by more than a third and went from 58.2% in 2019 to 38% in 2020. Consumers opted for an increase in the use of debit cards and mobile/digital wallets, according to the Worldpay report from FIS.
What is certain is that part of the success of e-commerce is the understanding of local payment differences, regulatory frameworks, preferred payment combinations in each market and cross-border purchases, which are considered risky in countries such as Brazil and Argentina.
And although there is no pre-designed solution, payment processors such as PayRetailers have been the main ally for e-commerce companies to achieve the appropriate payment selection in each market and to achieve optimized processing that allows them to expand in Latin America. Giving the merchant peace of mind to forget about conversion rates, fraud risks and the likelihood of chargebacks that all this entails.
In addition, avoid dealing with the complexity of managing multiple legal entities throughout Latin America, and ultimately offer the customer a better experience. Contact us!