Cross-border payments are those made between two institutions based in different countries. For many years, these payments were made through the SWIFT network, but these methods have changed.
How do cross-border payments work?
Before the pandemic, certain companies began to develop electronic payment mechanisms to facilitate transactions. With the advent of COVID-19, the way cross-border payments work changed and evolved significantly.

Conventional cross-border payments must pass through several hurdles before completion. The new electronic payment methods have the advantage of bypassing all these obstacles and making a direct payment. Electronic methods are known as payment gateways.
In order for them to work properly and provide good customer service, some considerations must be considered: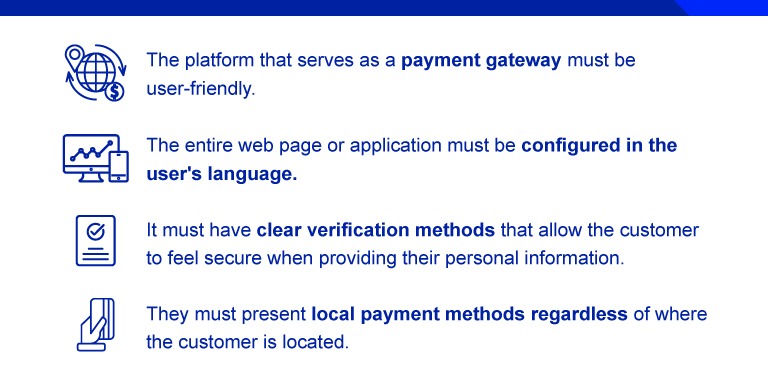 To achieve a successful cross-border payment, a specific process must occur between the buyer and the seller, through the payment gateway.

Why are cross-border payments important?
International trade without cross-border payments simply does not exist. That's why this mechanism is so important. Cross-border payments allow companies to open up a range of possibilities for customers around the world to trade with them.

The legal basis for such payments may vary from country to country and from community to community around the world. Despite this, the primary objective of these payment gateways is to satisfy the needs of commerce between two parties. Providing buyers with different payment methods to purchase goods and services is essential for the globalization of trade.

Some of the advantages of accepting cross-border payments for businesses are:
Buyers' confidence in doing business with the company.

Increased sales and interest of people from all over the world in the product offered.

Increased popularity of the company in the electronic environment, thanks to the range of payment possibilities.
Cross border payment's challenges
Despite being a useful and necessary payment method to connect commerce around the world, there are still challenges to overcome. Some governments in the world, with closed economic policies, prohibit or regulate their use in their territories. In China, for example, the government heavily regulates the inflow of resources through cross-border payments.

But to understand what cross-border payment regulation is and how it's applied, we need to know about the economic policies managed in the countries. We also need to know what cross-border payments and reporting are. The latter was created with the intention of providing more information about sellers and buyers. This type of reporting allows us to recognize irregularities and avoid money laundering.

In the European Union, for example, these transactions are carried out without major complications and with low fees. Part of the European Union's agreements facilitate trade between member countries. Cross-border payments are, of course, part of this collaborative economy model.

In the United States, Latin America and the Caribbean, there are very specific agreements that regulate the practice of cross-border e-commerce. Depending on the bilateral relations between one country and another, regulations are established to facilitate payments and reduce tariffs.

The pandemic created new challenges for foreign trade and cross-border payments. With the increase in electronic sales and purchasing channels, new payment methods and gateways were developed for international use.
Types of cross border payments
It is important to start by understanding what traditional methods are and what instant cross-border payments are. There are several ways to complete a payment between two different territories.
Credit and Debit Cards
This is the traditional payment method par excellence. The way this type of cross-border payment works is through the buyer's own card. Through this payment method, the buyer has access to its funds or line of credit to make purchases.

To understand how this traditional method works, we need to understand what the cross-border interbank payment system is. To pay with credit or with debit cards, the receiving and issuing banks must contact each other to complete the process.
Electronic Wallets
Electronic wallets have been widespread for some time and seek to connect people around the world through a common currency. Generally, these payment platforms use the dollar or the euro as the legal trading currency, but they have access to more territories than the traditional method.
This is one of the most recent cross-border payment methods to be implemented. The rise of cryptocurrencies as a parallel method to hard currency has led many merchants to include them in their payment methods.

One of its advantages is its speed. What are instant cross-border payments? A method that allows you to make a payment that can be immediately confirmed by the counterparty. This is exactly what this payment method offers. Fees under this mechanism are usually negligible.
How can PayRetailers help you with your cross-border payments?
We are a company operating in Latin America, we help you understand what cross-border payments are and provide you with the support you need to make them. We offer a huge range of local payment methods, and we have all the legal support to operate in each one of the LATAM emerging markets. Contact us!