In today is consumer-driven economy, shoppers are much more demanding then ever when it comes to making purchases. They are looking for convenience and a bespoke shopping and payment experience. They expect to be able to make a payment the way they want and when they want. At PayRetailers, we explain why omnichannel payment solutions are a way to respond to consumer demands while, at the same time, giving your business a boost.
How do omnichannel payments work?
Omnichannel payment processing refers to a company's ability to integrate multiple payment options into a single, consistent and seamless customer experience.

Whether the consumer is shopping in a physical store, online, away from home or using other methods, you need to be able to accept their preferred payment method. This could include anything from credit cards to digital wallets or even instant bank transfers.

Omnichannel payments are a way to break down the barriers between the in-store, social media, cellphone, e-mail, website, phone and live chat experiences you offer your shoppers. A true omnichannel platform also allows you to synchronize data in real time and make banking more flexible in a number of ways.

Consumers are looking to be able to start their sign-up process with one channel and, if they feel like it, finish it with another, without having to provide the same information over and over again.
Why choose omnichannel payments?
Customer demands matter more than ever, which is what is driving companies to change their payment services, not only to integrate multiple payment methods, but multiple methods of interaction too. It is this unified and personalized interaction and experience that directly impacts customer loyalty and could be the difference between an abandoned shopping cart and a loyal customer.

One of the benefits of offering omnichannel payments is to foster a better customer experience. They are more likely to complete a purchase when they can pay using their preferred payment method. According to a recent survey, 44% of UK shoppers would not go through with a purchase if they could not pay using their preferred payment method.

The value of omnichannel payments is a wider selection of payments. Even merchants benefit from the consistency of an omnichannel payment solution, since they can:
Combine multiple payment methods into a unified system.

Draw up all-in-one reports to simplify account reconciliation.

Track sales and stock.

Consolidate customer purchase paths across all channels.

Reduce management and maintenance time.
Instead of maintaining multiple systems to manage each individual payment method, you can monitor payments from a central dashboard. In addition, by generating data from multiple transaction types, omnichannel payment services help fine-tune sales and marketing strategies.
Payment acceptance methods
Customer satisfaction and a rise in sales are no longer mutually exclusive. Omnichannel payments offer businesses a way to keep customers happy, as well as potentially increasing revenue. Some of the most popular channels incorporate payment options for:
Smartphones have evolved to become one of the most common and popular ways to make day-to-day purchases. With the arrival of mobile wallet apps such as Google Pay, Apple Pay and Samsung Pay, smartphones are a convenient way to pay for goods and services with a smartphone, smartwatch or other compatible device.
. While contactless options are all the rage nowadays, some consumers still prefer shopping in physical stores. Now that customers are leaving their homes to shop in-store, retailers and online sellers must be prepared.

Traditional companies cannot wait to reach pre-COVID-19 profit margins by only selling in physical stores. However, key online players could entail a reduction in their sales, because physical stores are scrambling for customers time and attention.
As the COVID-19 pandemic brought about store closures, many retailers had to quickly move to ecommerce and implement an omnichannel payment strategy to safeguard the future of their business. Due to the restrictions put in place in the wake of the pandemic, consumers quickly became omnichannel shoppers and turned to their laptops, tablets and desktops.
Within the main categories, there are several ways to accept payment from customers: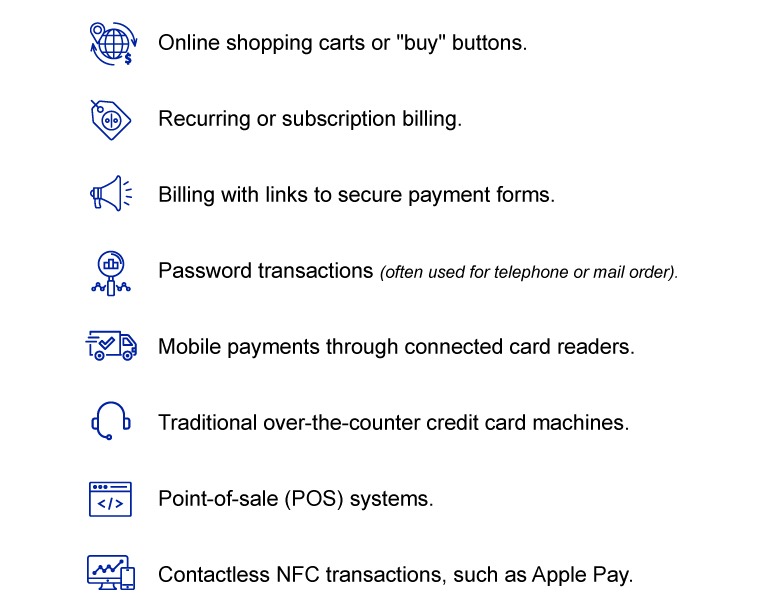 How to choose a payment processor?
Security is something to take into account when it comes to choosing to work with an omnichannel payment platform. If you opt for an omnichannel payment processor, make sure it is PCI compliant and complies with the data security standards (PCI DSS) set by the payment card industry. Because omnichannel payment processing can be tricky, you will be better off opting for a payment processor that has an excellent track record when it comes to security.

In conclusion, omnichannel payment processing may sound tricky, but it is an excellent solution for companies looking to simplify their account reconciliation while, at the same time, offering their customers a variety of payment methods. You can choose from an excellent selection of merchant service providers, such as PayRetailers, where we offer you an omnichannel gateway with the utmost security for your customers transactions. Trust our know-how in omnichannel payment solutions.